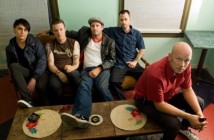 Red Scare has sent us exclusive details on the forthcoming tribute to the Swingin' Utters. Titled Untitled 21: A Juvenile Tribute to Swingin' Utters, the 31-song tribute is due out February 16, 2010. Participating bands include Off With Their Heads, Fucked Up, Useless ID, Vultures United, Teenage Bottlerocket, Cobra Skulls, Dropkick Murphys, Druglords of the Avenues, Everybody Out!, Flatfoot 56, La Plebe, Left Alone, Roll The Tanks, Smalltown, Street Dogs, Teen Idols, The Forgotten, The Frantic, The Hollowpoints and many more.
Useless ID "Unpopular Again"
Smalltown "Politician"
Roll The Tanks "Windspitting Punk"
Dropkick Murphys "Strongman"
Cobra Skulls "If You Want Me To"
Moonshine "Back To You"
Broke 'Til Thursday "As You Start Leaving"
Flatfoot 56 "Looking For Something To Follow"
La Plebe "All That I Can Give"
Fucked Up "Lazer Attack"
The Hollowpoints "From The Observatory"
The Fucking Buckaroos "Fruitless Fortunes"
Teenage Bottlerocket "London Drunk"
Everybody Out! "No Time To Play"
Vultures United "To Return Now"
Off With Their Heads "Next In Line"
Massacre Time "Nine To Five"
18 The Frantic "Heaven At Seventeen"
Street Dogs "Dirty Sea"
Jonny Two Bags "Pills & Smoke"
The Sore Thumbs "15th And T"
The Oozzies "Storybook Disease"
The Outlaw Dance Society "Smokestack Dreads"
Blag Jesus and the Druglords of the Avenues "Jackie Jab"
Joe Coffee "Smoke Like A Girl"
Left Alone "23"
Zero Bullshit "Something Sticky"
Russ Rankin "Beached Sailor"
Teen Idols "Five Lessons Learned"
The Departed "I Need Feedback"
The Forgotten "Catastrophe"