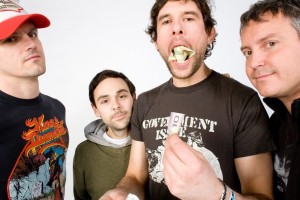 Propagandhi have announced intentions to release a digital EP, with the proceeds going to Haiti earthquake relief. The three-track release will feature unreleased songs recorded during the sessions of the band's first two full-lengths, 1993's How To Clean Everything and 1996's Less Talk, More Rock, including a track entitled "Leg-Hold Trap" sung by former member (and now The Weakerthans frontman) John K. Samson. Vocalist/guitarist Chris Hannah spoke about that song:
"But, yeah, there is a track on here from the How to Clean Everything sessions that features John Samson on vocals that I think long-time fans of the band will get a kick out of. I know I do. It was the only fast song he ever sang on. Fat Mike wanted me to sing it because he thought Samson sounded like Kermit the Frog. I refused. So Mike vetoed it from the record [laughs]."
The EP is expected out in late March through G7 Welcoming Committee Records.