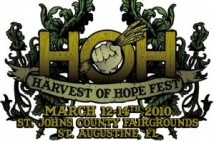 The second annual Harvest of Hope Fest has added yet another round of bands to its lineup. New confirmations include Broken Social Scene, Chali 2na of Jurassic 5, Mucca Pazza, Avi Buffalo and Yelawolf.
The festival will be happening at the St. John's County Fairgrounds near St. Augustine, FL from March 12-14, and serves to raise funds and awareness for the Harvest of Hope Foundation, a charity organization that assists migrant farmworkers all over the country. Bands slated to perform include Billy Bragg, 7 Seconds, Anti-Flag, Leatherface, The Mountain Goats, Small Brown Bike, Coalesce, forgetters and a slew of others.
Ticket information is available here.