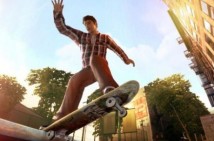 The soundtrack for Skate 3 has been announced and will feature music from 3 Inches of Blood, Agent Orange, Animal Collective, Beastie Boys, Chad VanGaalen, Dead Moon, Dinosaur Jr., Japanther, Joy Division, Kinski, Mudhoney, No Age, Pixies, The Girls, The Misfits, The Thermals, and many others.
The game is the third in the series from EA and will also have an original score by Del The Funky Homosapien, John King of the Dust Brothers, and Mark Mothersbaugh of Devo. Former pro-skater Jason Lee will have a speaking role in the game as well.
Check out the full track listing here. The game is due out May 11, 2010.