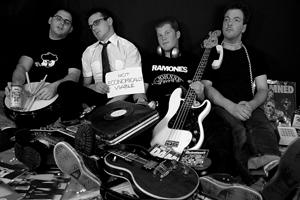 In a recent interview, vocalist/guitarist Dan Vapid stated that The Methadones will call it a day by year's end, playing two final shows (one at this year's Insubordination Fest and another in their hometown of Chicago, IL) and releasing a collection of b-sides and outtakes packaged with five new songs. Here's a snippet regarding the band's split:
"i think the band has run it's course. The Methadones have played consistently for 10 years, which is more than any band/project I've been a part of. We had our share of problems but were always intent on working past them. For the last 5 years every member has gone through a period of giving a shit and not giving a shit, all at different times. It got to the point where I felt like we were just going through the motions and forcing it."
Over the years The Methadones released material through A-F Records, Thick Records, It's Alive Records and Red Scare, with the latter label issuing the band's last full-length, 2007's This Won't Hurt… Meanwhile, Vapid continues to stay busy with both Screeching Weasel and Riverdales, as well as his newest project, Noise By Numbers.