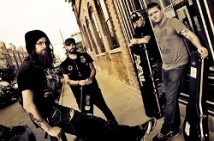 Your pals in Smoke or Fire have announced that they will release their new studio album on November 9, 2010. The record is titled the Speakeasy and is the first full length for the band since This Sinking Ship in 2007. In the interim, they issued Prehistoric Knife Fight. The record was recorded with Matt Allison at Atlas Studio and also marks the recorded debut of Ryan Parrish (Darkest Hour) and songwriting debut of Gwomper (AVAIL) Joe McMahon commented:

We were so happy to be able to record the new record with Matt Allison in Chicago. Matt is not only a great friend of ours, but really becomes the 5th member of the group when you're in the studio with him. We were working with a pretty slim time period on this record, and everyone really showed up. Ryan Parrish killed it on drums, and made such great contributions during the writing process. It was also a lot of fun to watch Gwomper record his Bass on the record.

He gets so into it, I think he moves around more while he's recording than he does on stage. The only hitch we ran into was me losing my voice half way through recording vocals. When that happens all you can do is wait until it comes back, and you have no idea how long that's going to be. It took 6 days before I could start singing again. When the record was finished, Jeremy and I both agreed it was the first time we had left the studio with everything coming out exactly the way we wanted. The songs, the artwork…everything. We couldn't be happier with this record.
The band will be at Fat's CMJ showcase on October 23rd in New York City.