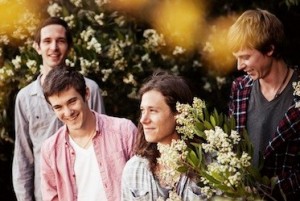 Punknews is proud to announce that we'll be co-sponsoring a CMJ showcase with No Sleep Records.
Dubbed the No Sleep Till CMJ Party, the show will be headlined by our friends in Fake Problems and feature a slew of excellent support acts: O Pioneers!!!, Such Gold, My Heart to Joy, Into It. Over It., Aficionado, Junior Battles, Former Thieves, Atlantic/Pacific (ex-Texas Is the Reason) and a few special guests to boot.
The show will take place at the Party Expo (929 Broadway) in Brooklyn, N.Y. on October 20. Doors are at 5:00 and the cost of admission is a paltry $10, or free if you already happened to drop the bones on a badge.