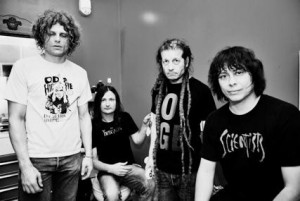 OFF! have released another new video. The band is the new project from Keith Morris (Black Flag, Circle Jerks), Dimitri Coates (Burning Brides), Steven Shane McDonald (Redd Kross) and Mario Rubalcaba (Rocket From The Crypt, Hot Snakes). The group's first EP is slated for a October 12, 2010 release, with a box set of four new EPs planned for November 23, 2010. The video features Raymond Pettibon painting. Frontman Keith Morris had the following statement regarding working with Pettibon again:

Raymond has] spent time in the ranks of Black Flag and the Circle Jerks, so when I went and hung out with him… we re-established a friendship that started in the '70s. We always appreciated each other's work, so it all fell into place. Raymond's creating all of the artwork for OFF!, which takes him back to the South Bay circa 1976 and we've brought him in as our fifth member.
Check out the video here.