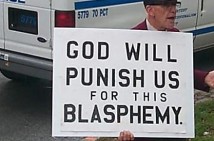 Hellmouth, the thrash/punk outfit featuring Jay Navarro of The Suicide Machines, have released another new song from their upcoming album on Paper and Plastick. The band will be releasing their second full length on November 16th. To coincide with the release, the band is doing a limited pressing in which the ashes of a burned bible are being pressed into the vinyl. Guitarist Alex Awn explained:

The concept of burning a holy book and sending its ashes off to the pressing plant to include in a limited run of the new album presented itself to us when we were in NYC earlier this year. Vinnie [Fiorello, Paper Plastick Records founder] did some research and found out it could be done, so we were pretty excited about it. As far as we know this is the first of its kind. I've heard about a company that presses your own ash into a record after you've been cremated but since we're not dabbling in corpse desecration or body-snatching, a bible would have to suffice.

We procured an old German bible from the late 1800′s to sacrifice for the new album. It had scribblings and notes in it that dated it to the turn of the 19th century which was interesting. It was heavy, leather-bound and was sealed w/ a metal clasp. The type was set in a gothic script and it had some 3 color images on the recto pages. There was a lot of craftsmanship and man-hours that went into producing the book. Having said that, I wouldn't get too misty-eyed on the fine craftsmanship of the book b/c it was the content we were focusing on and the rivers of blood left in its wake.
Find the song here.