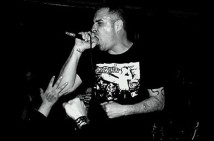 Many of you wrote in with the sad news that Phil Vane, vocalist of pioneering hardcore/grind outfit Extreme Noise Terror (and briefly of Napalm Death), has passed away. The band posted the news on their official website but have not yet made a full statement. They said just this:

The rumours are true - we're sorry to announce that Phil passed away recently. The band will make a full statement soon but for now we need to take the time to come to terms with this terrible loss.
First formed in Ipswitch, UK in 1985, the band has been credited with being a significant influence in hardcore, grindcore and crust punk, defining many of the staples of those genres including political lyrics, fast tempos and very brief songs. The band was a favourite of late BBC Radio 1 DJ John Peel who enlisted the band for several of his famous Peel Sessions. While they had many lineup changes over the years, the band continued to write and record with 2010 seeing the release of a split with Slang and their last album, Law of Retaliation , released in 2009.
Our deepest condolences to Phil's friends and family.