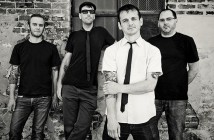 In an interview with Jaded in Chicago, Dan Vapid revealed some details about his latest project Dan Vapid and The Cheats, including plans for an album; currently, the group expects to enter the studio in October to record their debut, with a release expected in 2012. Vapid also discussed how the project came about in the wake of Screeching Weasel's untimely and infamous demise:
"For about a week and a half after SXSW I had serious doubts if I would ever play again. I had just lost my position with Screeching Weasel, which was my source of income. My wife and I were counting on that income to get us through the year since she wasn't working because we were about to have a baby. Now with that gone my focus was getting a job. Where would I work in a terrible economy? That added pressure, along with the awful embarrassment of being associated with the SXSW fiasco. The endless commentary on Facebook and punk message boards was very overwhelming. I didn't sleep for about ten days. So, I had my doubts. But, people like Mike Byrne and Simon Lamb gave a lot of encouragement to do the show, as did other friends, along with the guys in the former Screeching Weasel lineup. That meant a lot. I also received many emails, phone calls and text messages from people in support. It opened my eyes a little and it helped me get through a very difficult time. When life comes and knocks your ass down you need to get up, shake off the dust and start again. This band symbolizes a fresh perspective and a new chapter for me."
Check out the full interview here. In addition to SW, Vapid had previously spent time in The Methadones and The Riverdales, and is a current member of Noise by Numbers.