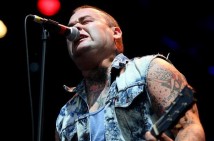 Former Alexisonfire guitarist/vocalist Wade MacNeil has been officially announced as the new frontman for Gallows, filling the shoes of the departed Frank Carter. Alexisonfire themselves officially announced their long-rumored breakup last Friday, no doubt clearing the way for this announcement. In an exclusive interview with Alternative Press, MacNeil discussed joining the UK-based group and what he plans to bring to the table:
"I definitely think I have a very, very different voice than Frank--and I mean aside from yelling, I think just the tone of my voice is going to be the one thing that's really, really different. Even though I've spent a lot of the last 10 years touring England in various bands, I don't have a British perspective for everything, so whereas the last record was definitely focused on Britain specifically, I think everything we're going to do in the future will definitely have more of a worldview. That's something everyone in the band can relate to, because we spent the majority of our youth traveling the world playing punk shows."
Gallows will be part of this fall's AP Tour alongside Four Year Strong, Title Fight, The Swellers and Sharks.
Update: Wade has confirmed that his other band Black Lungs will continue on as well: "To everyone asking about Black Lungs. We are still a band. The record will still come out. And Yes, we will play your basement."