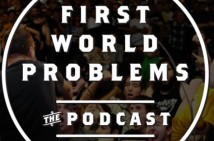 Punknews.org is proud to announce that the First World Problems podcast has joined the ever growing Punknews Podcast network. First World Problems is a podcast started by three friends who share a common love for music and want to duplicate the feeling of hanging out and talking about music with your friends. Your hosts include Ray Harkins (peta2/Sound & Fury, ex- Taken, Mikoto, Century Media), Joey Cahill (6131 Records/Sound & Fury) and Scott Arnold (who is far too bad ass for any namedropping).
If you're looking to review some choice moments from past episodes of First World Problems head to their website and check out Episode #11 featuring Matt Shadows from Avenged Sevenfold, Episode #6 featuring Andy Reitz from Defeater, Episode #17 featuring Alex Varkatzas from Atreyu or Episode #9 featuring Rob Moran from Unbroken/Narrows.
The new Episode of First World Problems features:

This "return" episode, we have no guests and talk about everything from the new Set Your Goals to The Challenge: Rivals.
Future episodes will feature guests such as Travis from This Is Hell, Wade MacNiel from Gallows/Alexisonfire and Vigil from Ghost Inside.
You can click Read More to stream and/or download the show, subscribe via RSS or iTunes and follow updates on Twitter.