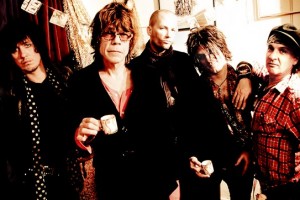 Bob Gruen, the photographer responsible for iconic pictures of acts such as John Lennon and The Clash, will be releasing a film about the New York Dolls entitled Lookin' Fine On Television. The DVD will feature 15 live video clips that were compiled from footage from the 2005 New York Dolls documentary, All Dolled Up. The clips are comprised of early New York Dolls shows at NYC clubs Kenny's Castaways and Max's Kansas City as well as footage from their West Coast tour: Whisky-A-Go-Go, the Real Don Steele Show, Rodney Bingenheimer's English Disco, and more. Early performances of classic New York dolls songs such as "Personality Crisis," "Who Are the Mystery Girls?", "Babylon", and more can be found on the DVD.
The DVD is due for a November 22nd release with MVD Entertainment Group.
A live performance of "Lookin' For A Kiss" can be found below as well as the track listing for the DVD.
Lookin' Fine on Televeision track listing
1. Jet Boy
2. Personality Crisis
3. Bad Girl
4. Human Being
5. Bad Detective
6. Subway Train
7. Trash
8. Vietnamese Baby
9. Lookin For a Kiss
10. Who Are The Mystery Girls
11. Private World
12. Babylon
13. Frankenstein
14. Chatterbox
15. Jet Boy