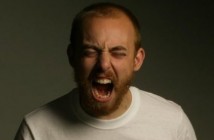 A number of you wrote in with the news that The Menzingers' Tom May and Luther were involved in a car accident. Their friends in Signals Midwest said this:

The show on Monday is cancelled. Tom May & Luther were in a pretty bad car accident in Chicago. No one is gravely injured, but their van is totaled and they had to cancel the rest of their tour.
The tour in question was the November tour featuring May solo and Luther on most dates as well as shows with Signals Midwest and Broadway Calls.