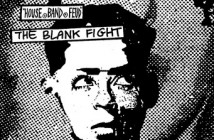 The Silver Sprocket Bicycle Club have announced plans to reissue the album, House Band Feud, from The Blank Fight. The reissued album will feature the original zine from the record, new artwork, and liner notes from Aaron Cometbus. The record was originally released in 2002 on Plan-It-X Records and is now being remastered onto 500 copies on clear vinyl to be made available to the public February 28.
Originally from Pensacola, FL, The Blank Fight featured members from This Bike is a Pipe Bomb, Crimpshrine, and Pinhead Gunpowder.
A song from the album, entitled "This Bike and This Guitar", can be heard here.