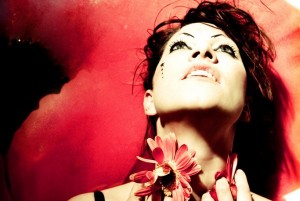 Amanda Palmer of The Dresden Dolls has released a music video with her latest project The Grand Theft Orchestra. The video is for their cover of Nirvana's "Polly." Palmer recorded the song last year for Spin Magazine's tribute compilation.
The video captures the chilling history behind the song "Polly". Palmer describes the video in her own words:

Apparently there was a guy (a Nirvana fan) who bragged about raping a girl while the song played, and Kurt spoke out against it publicly. Kurt was, after all, a feminist… The video stand[s] alone without the backstory, but the backstory brings the disturbing-ness to a whole new level… The actress who played the part of Polly had quite an emotional ride during shooting, that's for sure.
The single is up for a pay what you will donation on Amanda Palmer's website with a minimum donation of 50 cents.