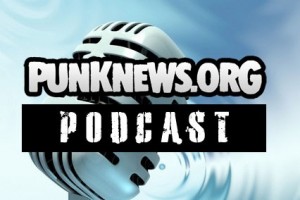 It was a dark time for the Punknews Podcast. Chris Moran and Adam White found themselves as a duo, ready to record the single worst show in our 82 episode run, when suddenly mid-broadcast fan favourite Richard Verducci appeared like a white knight to save the day. Something like that. Anyways. The trio discusses the end of the Vandals / Variety lawsuit, Dave Grohl at the Grammys, the new Menzingers record, the next Green Day record, Frank Turner's live DVD project, Michael Graves' new band with Ron Paul and more.
…all this and music from Modern Action, Sharp Objects and Integrity.
You can click Read More to stream and/or download the show, or subscribe via RSS or iTunes. You can always send us your feedback in the comments section or via e-mail.
This episode of the Punknews Podcast is sponsored by Pouzza Fest, the punk rock festival taking over downtown Montreal from May 18th to the 20th.
Punknews Podcast for the week for February 14, 2012