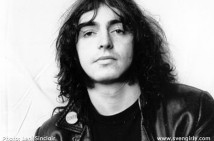 Michael Davis (1943-2012), bassist with legendary proto-punk band the MC5, has died of liver failure at the age of 68, the BBC reports. Davis had been undergoing treatment for liver disease for a month before he died at Enloe Medical Center in Chico, California.
Davis was the Motor City Five's second bass player, replacing Pat Burrows, in time to play on the band's incendiary 1969 album, Kick Out The Jams. Davis was asked to leave the band shortly before they split in 1972, but went on to pursue a career in art, and after they reunited in 2004, was able to combine that work with his musical interests, working with OBEY, and providing artwork for an MC5 'best of', as well as their collaboration with Primal Scream.
Davis is survived by his wife Angela, their three sons, and a daughter from a prior marriage. At the time of writing, arrangements for his memorial have not been announced.