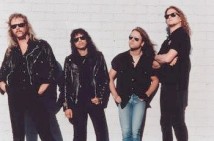 Metallica has launched a new trailer for the inaugural edition of their festival, the Orion Music and More.
Metallica assembled the lineup for the festival, which will take place at Bader Field in Atlantic City on June 23rd and 24th. The metal band will close both nights and perform 1990's Metallica and 1984's Ride the Lightning in their entirety on each night respectively. The lineup spans a number of genres, with the list so far including: Fucked Up, Avenged Sevenfold, Best Coast, Black Tusk, Cage the Elephant, Hot Snakes, Landmine Marathon, Liturgy, Lucero, Modest Mouse, Red Fang, Suicidal Tendencies, The Gaslight Anthem, The Sword, Titus Andronicus and Torche.
Fan club pre-sale tickets run $125 for a 2-day pass and regular early bird tickets will be sold for $150 when they go on sale on the 11th. Metallica celebrated their 30th anniversary last year.