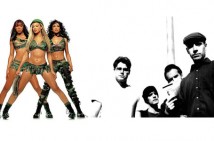 Party Ben has announced that his mashup of Fugazi and Destiny's Child will be the latest addition to this year's Record Store Day releases. Ian MacKaye appeared on the Kojo Nnamdi Show earlier this year and when asked about Wugazi's 13 Chambers , responded that:

You know I've actually never listed to the whole thing. I was certainly aware of it because of all the hub-bub about it. It's a very interesting concept, the whole mashup culture, I think there's obviously some very really great ideas. There is a really great one with 'Waiting Room' and Beyonce. That is a great mashup. People should really look into that one.
The 7" of "Independent Room" will be limited to 200 copies on bright blue vinyl (an obvious nod to Beyonce + Jay-Z's newborn, Blue Ivy Carter). You can hear when MacKaye mentions the mashup on the aforementioned interview here (at approximately 46:00). "Independent Room" can be heard below.