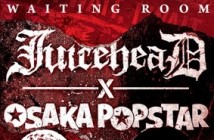 JuiceheaD and Osaka Popstar have teamed up to cover the Fugazi classic "Waiting Room" for a limited edition Record Store Day 7". Osaka Popstar singer John Cafiero said of getting permission for the cover:

I reached out to Dischord about covering the song and eventually had the pleasure of speaking to Ian MacKaye personally about it. Conceptually it was intimidating, because talking to Ian MacKaye about covering 'Waiting Room' is like walking on metaphorical hallowed ground. But he's truly someone that lives up to his ethos.
The record will be available in a limited run of 1,000 for Record Store Day, this weekend, as well as digitally via iTunes and Amazon. You can stream the cover here.