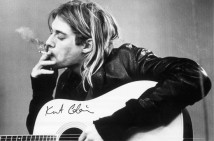 A few bits of Nirvana news have surfaced this week. The first, a potential bombshell, comes from Hole co-founder and guitarist Eric Erlandson who is also credited with composing all of Hole's Live Through This music. Eric told Fuse that the late Nirvana vocalist Kurt Cobain had been recording a solo album:

[Kurt] was headed in a direction that was really cool. It would have been his White Album. That's really what he was going towards, a solo album but working with different people. I was really excited about some of the stuff he was working on. I got to see him play it in front of me. Who knows where the music would have gone. There is one cover… I won't say what it is. I don't own the stuff. I just hope that one day it will be released for fans. It's just so heartbreaking.
Considering how lucrative Nirvana's unreleased back catalog has been for his label, it's surprising to imagine an album's worth of pre-production demos exist however.
In related news, Cobain's former bandmates Krist Novoselic and the Foo Fighters' Dave Grohl have apparently reunited with Nevermind producer Butch Vig for the second time in the past few years, this time to record a soundtrack for a rumored documentary about the recording of Nevermind.