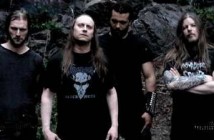 Converge and Napalm Death will be releasing a new split together. Converge is providing two songs from their recent recording sessions, including live staple "No Light Escapes" and a cover of "Wolverine Blues" from rock/metal pioneers Entombed. The cover will include some additional musicians including Tomas Lindberg from At the Gates, Aaron Turner of Isis, Kevin Baker of The Hope Conspiracy, Brian Izzi of Trap Them and more.
Grindcore pioneers Napalm Death will contribute two songs, the grind song "Will By Mouth" and a more atmospheric song called "No Impediment To Triumph (Bhopal)" which looks at the horrific Bhopal Gas Tragedy of 1984.
The split will be co-released by both bands and distributed by Deathwish Inc.