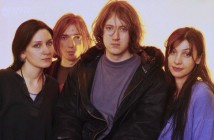 Kevin Shields of My Bloody Valentine had some less than kind words for his label Sony Music Entertainment, blaming them for the long delay of the Loveless and Isn't Anything reissues which are set for release on May 7th, 2012. The remastered reissues have been promised since at least 2008.
Shield's accused Sony of hiding the band's masters and releasing them to him only once he threatened to involve police. Having the original tapes would return ownership of the masters to Shields himself, a situation Sony was trying to avoid he says. He told Pitchfork this:

Sony behaved very badly again - like most sociopathic companies do, they can't help it. [Sony hid the tapes on purpose] The contract we did in 2001 basically gave me ownership of the tapes, and then the Sony regime that existed when that contract was signed left. And when the new regime came in, the tapes disappeared. That was relevant because even though I was the owner, it would only revert back to me if I remastered from the original tapes-- if the tapes were gone, I couldn't remaster from them and hence I couldn't ever own them.
On May 7th, 2012, Sony will be released remastered versions of Loveless and Isn't Anything as well as assembling a collection of EPs and rarities titled EPs 1988-1991. The latter will include their breakthrough 1998 EP, You Made Me Realise.