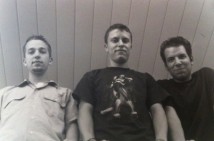 Punchline have posted a pay-what-you-want digital download and stream of their debut album, How To Get Kicked Out of the Mall, as part of their 15th anniversary. The album was originally self-released in 1998.
Check out the stream/download here.
The band has had an interesting 2012, with longtime bassist Chris Fafalios vowing to quit the band if their recent EP didn't reach #1 on iTunes. When it hit #1 on the rock charts and #7 overall, Chris opted to continue with the band. His bandmate Steve Soboslai appeared on reality show Mobbed and performed the Cheap Trick classic "I Want You to Want Me" to a long-distance friend Dana.