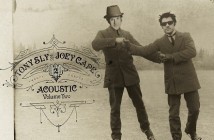 Today we are excited to bring you a stream of the new release from Joey Cape of Lagwagon and Tony Sly of No Use For a Name, entitled Acoustic Volume 2. The release is the follow up to 2004's Acoustic. The pair each recorded five acoustic renditions of Lagwagon and No Use For a Name songs as well as each contributing an original track of their own.
The record can be pre-ordered here before it's June 19th release on Fat Wreck Chords.
You can find it on Joey Cape's Punknews.org Profile Update: Yeah, it's the wrong album. It's fixed now. Sorry about that.