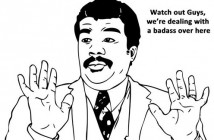 The Phenomenauts have posted their new video for "I'm With Neil." The song (and video) are a tribute to much loved and admired New York-based astrophysicist Neil deGrasse Tyson. The band wrote "I'm With Neil" after an appearance by Tyson on The Daily Show with Jon Stewart. They explained:

We have been aware of how great Neil is for a long time," Phenomenaut guitarist/vocalist Commander Angel Nova said in an email to Wired. "When he was on The Daily Show talking about how we needed to double NASA's budget, we decided to -- rather than just jumping out of our seats and cheering -- that we should make a song to encourage our fans to love him too.
The band aren't the only musicians inspired by Tyson; rapper and Wu-Tang Clan founder GZA was also inspired to rap about space and dark matter by the physicist. He also has his own meme.