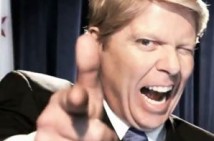 Though there has been nary a peep (nor a release) from Nitro Records since A Wilhelm Scream's 2007 album Career Suicide, Dexter Holland of The Offspring has addressed the status of his long-running label which was home to a range of artists including AFI, Guttermouth, The Vandals, Rufio and Crime In Stereo. He spoke to OC Weekly about it:

The record business is obviously not quite what it used to be. It is mostly a catalog label now where I feel really fortunate to have been able to put out all these records. When I first started, it was by being friends with members of Guttermouth. I saw them play and I know people would like them outside Orange County. Luckily, I had the means to get distribution deals. It was really gratifying to help bands like Guttermouth, and The Vandals. AFI was a really special case where nobody knew who the band was and we actually stayed together for five records and they did really well. A lot of great memories. If the right thing came along I would definitely do something again. We are what I would call a semi-active label.
He also addresses the incredibly polarizing single: "Cruising California (Bumpin' In My Trunk)" saying this:

People have asked me since it is a different type of sound for us, "Are you trying to make a pop song?" or "Are you trying to take a piss on a pop song?" I like not answering that question. I like that we are on the line about that. If it makes you wonder, that is a good thing.
Days Go By is due out tomorrow.
They will be appearing on Jimmy Kimmel Live on tonight's show.