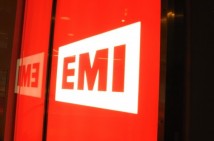 Sony Music Entertainment's $2 billion purchase of EMI's Music Publishing arm has been approved in the United States by the Federal Trade Commission, clearing the final hurdle needed to complete the deal; the European Commission approved the deal in April. The New York Times reports on the complexities of the sale, in which Sony will have to keep EMI a separate entity:

"Because of Sony's joint venture with the Michael Jackson estate for its existing publishing arm, Sony/ATV, it must maintain EMI as a separate company. And while Sony/ATV will administer the EMI catalog, Sony and the Jackson estate will own only 38 percent of it.

The other investors are the sovereign wealth fund Mubadala of Abu Dhabi; Jynwel Capital of Hong Kong; Blackstone's GSO Capital Partners; and the Hollywood mogul David Geffen."
This deal for EMI's Music Publishing arm creates the world's largest catalogue of its kind, covering copyrights for songwriting and composition for some 1.3 million songs. It's not to be confused with Universal Music Group's pending deal for EMI's recorded music division, which is still under review in the United States and Europe. EMI was formed in 1931 and boasts a catalogue which includes Radiohead, The Decemberists, 30 Seconds to Mars, Beastie Boys, Stiff Little Fingers, The Beatles, The Stooges, Jimmy Eat World and countless more.