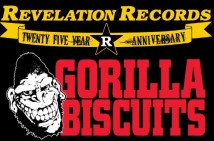 Hardcore blog, Hardcore Collective have posted their 20 minute documentary focused on the Revelation Records anniversary shows set in Pomona, CA. The festival included Gorilla Biscuits, Youth Of Today, Underdog, Sick Of It All, Bold, No For An Answer, Sense Field, Shai Hulud, Statue and more.
The documentary includes interviews with Greg Bennick and Timm McIntosh of Trial, Sam Yarmuth of Triple-B Records, and even a bit of Quicksand's set.
The 25th Anniversary celebrations haven't ended yet, the label is also planning a series of performances in New York City with Texas is the Reason, Into Another, Chain of Strength, On The Might Of Princes, Shades Apart, Youth Of Today and many more.