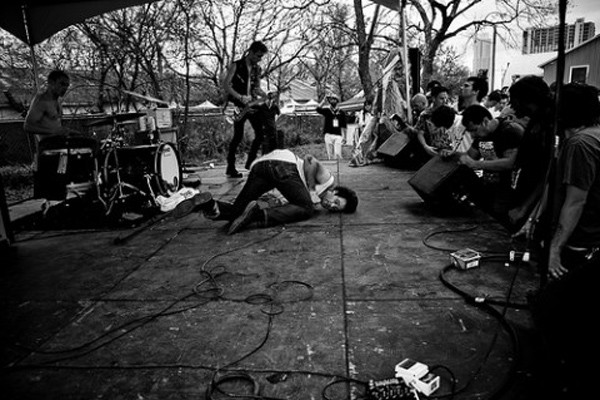 Every once in awhile, you get the chance to meet genuinely good people. It's just a plus that they are in a positive, influential band that you grew up listening to and have timelessly made a heavy imprint in the hardcore community. It's extremely rare that you find a band who evolves with age - no sign of regression or loss of energy during their set. Ceremony has actually matured over time and produced records that clearly represent what their sound is and who they are currently as a band. They don't try to produce music for anyone but themselves and this characteristic is a rarity in this day and age. Sitting down in the smokey back room at the Hi-Tone of Memphis, TN around pizza before their show, we got the chance to get a better understanding of their debut release on Matador Records, Zoo, how the group works as a whole and also how each individual plays a unique role in Ceremony. Ross started us out with how pizza was invented in Italy in 1793 and it was actually vegan. Also, the interview is with Ross Farrar, Anthony Anzaldo and Andy Nelson and conducted by Punknews' Copy Editor, Amelia Cline.
So to start off, where do you guys think you'll go from here musically after putting out such a different, accessible album for everyone? Andy: Uh, you should introduce yourself. We forgot to do that…
Anthony: I'm Anthony and I play guitar in Ceremony. And, my opinion on the question you are asking is…You know, there's always a decent amount of time and space in between each record and in that time and space we are always talking about ideas and what we could do for the next record. We always seem to unintentionally veer away from those ideas, organically. So I've stopped trying to guess or predict what our next release is going to be like because it's probably going to be totally different than what I expect it to be. But, probably something that is much more in the vein of "Zoo" than any of our other records.
Andy: Yeah, I mean, the records are heading somewhere. There's an aesthetic narrative between all of them. And, I think the next one will make sense in that context but there isn't like a "point B." We don't have a plan of trying to get to some place. I think the only thing you can count on is that it's not going to regress at all. There won't be any power violence songs on the next record…
What's the difference between touring with bands like Titus Andronicus and bands, like Nails? Anthony: Well one, we would headline the Nails show and here we're supporting Titus. It's a different dynamic when you are headlining and then supporting a show, you know? But these shows, we are playing to a lot of people who aren't really exposed to punk or us at all. But with Nails we are playing to the same crowd as we have since the inception of the band. Which is fine, because I think that said group of people are the most dedicated. But, we're also enjoying playing to people who haven't heard our band and who wouldn't have necessarily heard us otherwise if we weren't on a tour like this.
Ross: Being in a band now, we're kind of clunked into different genres especially from being on Matador, but it's natural for us at this point to be playing with bands who aren't punk and hardcore bands. We still do all the time of course, but writing and putting out the record that we did and knowing it was going to be a little different I think those are the kinds of bands we are going to be more in tune with nowadays.
Anthony: In the subtext to your question though, we come from punk and hardcore but I don't think we are exclusively a punk or hardcore band. So, we don't only want to play with said bands.
Andy: It's insane to limit the kinds of bands you play with. If you are a band for seven years and you play with the same kinds of bands over and over again or packaging a tour with five bands that sound identical, I have a hard time imagining not getting burnt out on the whole enterprise…I just don't think we are interested in limiting the kind of art we consume or the people that we surround ourselves with and whereas we can do a show with Bloc Party, then NAILS, then Chelsea Wolfe, then Hoax and that's chill too. Talking to a lot of our peers, it seems as though we're not alone in this urge to exist in a more diverse culture, and I wonder why more bands don't go out of their way to do this sort of thing, since the people that I talk to in a lot of those bands don't JUST listen to hardcore. The really strange thing about that is that they have the power in their hands to play with any band they want. Why go out of your way to live inside a box?
Ross: People might close their ears a little: that's happened. But also I think people, take little things from every situation in life. Like the ear closer at Bloc Party, she may remember something that with that said. Maybe a gust of wind will come at her from somewhere and she'll decide "maybe I'll try that again" or "I like different things now. " I always think about it like there are things I used to dislike years ago that now I appreciate in a different light.
Can you explain why they new album is simply titled, "Zoo?" Is there something we're missing in the song titles? Ross (with mouth full of pizza): It's not like a concept or anything like that. We were fishing around for ideas for the record and I wanted to sort of tie it lyrically. Have there be a connection there but there really isn't anything that is very significant to the title. I wrote a lot of songs about people and the way we treat each other/human nature in general and I was toying with people being animals and animalistic. On the cover, there's an image from television and there are just a lot of things from society point blank coming into your life subliminally almost and basically just human nature stuff. There's no song that actually ties it altogether. Just willy-nilly I guess! Hah!
Is there a relation between your move from B9 to Matador that can explain your evolving sound? Anthony: No. We wrote a lot of the record before we had any interest in Matador. A lot of those earlier songs that we wrote and talked about were some of the most progressive that we have probably done. "Start Over" is the B-side of the "Adult" single and is one the first songs we wrote. That was probably one of the biggest leaps for us as a band. "Brace yourself" was the first song we wrote and very unlike anything we've written. That would be silly…I didn't grow up listening to music based off what label it was from. When you get into punk, it does get a little different.
What was it like shooting the video of your Violent Femmes cover, "Kiss Off" for the A.V. Club? Ross: It was super relaxed.
Anthony:Yeah, it was a lot of fun. It's a pretty simple song so we trusted ourselves to learn it when we got there. Awesome day in Chicago!
Andy: It's cool though. You are at The Onion, you know? It's like being at MAD Magazine or whatever. I met the CEO and that was kind of funny. They have a joke there where they have a ton of erotica magazines laying around and what you're supposed to do is grab one, randomly point at a place on the page and start reading. And so we all did it. I got a really bad passage but it was super fun. It was also funny because "Kiss Off" has been covered before by Avail, which is a perfect cover to me. And I was thinking, well maybe no one will know and it'll be fine. So, we finish and of course the guy recording has an Avail tattoo.
So, touching on the Bloc Party run that you did with them in Canada - what was that like for you guys? Have you ever been to Canada before? Anthony: We hadn't been to Canada since like 2006. It was a really new experience for us and it was similar to the tour with AFI that we did. They're friends of ours so the size of the bands and the size of the room was really chill for us. It was a really new territory though. These shows are awesome because everyone knows Ceremony and is coming to watch us but with those shows no one knew us at all so it was a completely different mindset of performing.
Andy: A new experience is usually a good experience in my book.
You guys opened for Refused at The Terminal in New York. That's like a 3000 cap room, which must have been crazy. How did the crowd respond to your set? How did you guys feel playing in such a large venue? Anthony: The show was sold out before we were announced. That was definitely one of the biggest non-Fest shows we've ever played even in comparison to that Bloc Party tour. You're in New York, it was just fun.
Ross: We also played a show later that night at the Mercury Lounge.
Andy: First time they had an all ages show in awhile, well, "officially" 16+.
Ross: This kid came up and was like, dude please I just turned 16 and I don't have my ID please let me get in. I tried but the guy wouldn't let him in.
Are you guys excited to play the Fun Fun Fun Fest? Is this your first time playing that particular festival? Any bands you're excited to see? Andy: We actually played it last year and this year we are playing a our own club show at night with a cool band that we all like, Bleached. But this club show is part of the Festival, too. I think last year we played in the mid-afternoon and it was like a dust bowl and our set suffered.
Anthony: Yeah, we didn't play very well at all. We actually sucked.
Andy, this question is directed at you! I know you are a very busy man with playing in Blacklisted, Ceremony and Paint It Black while also being apart of R5. How do you juggle everything and does any of your involvement with the above ever deters you playing in Ceremony?
Andy: I don't know how many, honestly.
Anthony: What do you consider bands? Because the answer could be one…
Amelia: That you actually take seriously?
Andy: Zero, motherfucker! But actually, I do this thing called TV Casualty that's in Philly and it's a charity cover band that plays a few times a year. We've done that with Ted Leo, Dan Yemin, Rodney Anonymous and a couple other people. Yemin and myself are working on this thing too and we have a record written but no singer. I mean, none of that really takes any affect on Ceremony because the band is my priority. All of the others are subject to children, work schedule, families, and so on and so forth. I was recently in Puerto Rico Flowers (no longer a band), playing in a Knives Out at the end of the year…Paint It Black is making a new record at the end of this year, too!
Lastly, I noticed that members of Loma Prieta, Punch and Ceremony play in Living Eyes who recently joined Deathwish. Which of you guys play in Living Eyes and could you talk about that a little? Anthony: Actually none of us! The drummer who fills in for us actually plays in Loma and Living Eyes. He's as close to being an official member of the band without being a official member. He's here with us somewhere in the venue!
Any last words or anything you want to add about upcoming plans? Andy: That's it forever and ever!