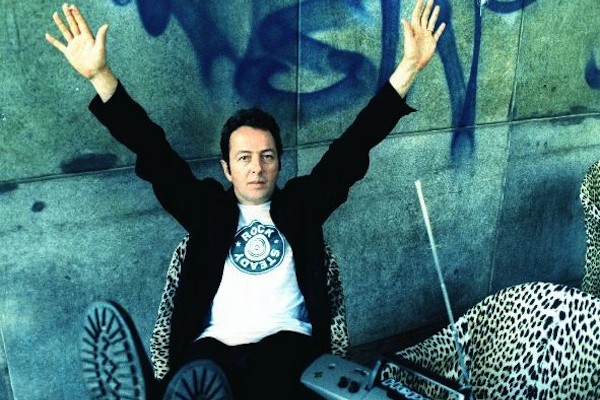 December 22, 2002 is a date we all remember. It's the day that Joe Strummer left us far too soon, at the young age of 50 and seemingly in the midst of a creative resurgence. The news sent shockwaves throughout the punk community; the outpouring of memories and emotions displayed upon his death remain fresh in our minds a decade later. Joe was an architect of our scene, and it's impossible to think about where we would all be without the music of the Clash guiding and empowering us. No one band took the punk ethos--social awareness, personal politics, loud guitars--to heights like they did. Mass audiences, both in the UK and abroad, were ready for change. Joe and the Clash stirred things up, and eventually showcased such a wide breadth of influences--and did it so seamlessly--that their talent and appeal became impossible to ignore, and their own influence became and remains immeasurable.
Whether it was The Clash, the Mesacleros or even The 101ers--Joe Strummer's music remains just as vital as it did ten, twenty and thirty years ago. We're all better off for him having been here.
On this day, the tenth anniversary of Joe's passing, Punknews.org staff members pay tribute. If you can spare it, consider making a small donation to Strummerville today.
Canonize Joe Strummer with a rarities box set. Not a Clash set, as they've already gotten their due with stuff like
Super Market Black Clash
; I'm talking about solo-only material. Because I am certain that if you took all the soundtrack work, B-sides, live cuts and demos floating around, you could make a boss four-disc set on par with Bruce Springsteen's
Tracks
or the Cure's
Join the Dots
. Because Strummer is so much more than just "White Riot." He never stopped pushing himself musically, even when he doubted himself post-
Cut the Crap
. There are so many tunes begging for a wider audience. "Burning Lights." "Love Kills." "Baby the Trans." "When Pigs Fly." Not to mention all the hours of demos I'm sure he left behind somewhere. Remember the "Vanilla Tapes?" How cool was it when those turned up? I'm looking at you Hellcat; make this a thing. I will put up money if needed, because the kids need to know where we all come from.
—Joe Pelone
The year was 2001, my senior year in high school. I wasn't that knowledgeable about punk rock, but I really liked the Clash. In fact, a year or two earlier, I had gotten into the Clash by ordering the Clash on Broadway box set from the BMG mail order music club for a discount price because, after hearing "Rock the Casbah," I thought they were a new wave/80s dance group a la Flock of Seagulls. Boy, was I wrong. In fact, were it not for that ordering mistake, and had I actually ordered an 80s dance music CD, I might have found myself swimming into the streams of dance music, hipster electronica or worse, dubstep, never to have discovered the glorious ambrosia that is punk rock.
Right around that time, I had read in the newspaper that Joe Strummer was playing the TLA in Philadelphia. My friends weren't really concert-going dudes, but I asked a few to go anyway. I got mostly shrugs of indifference, even though I knew that Joe Strummer was a punk rock legend, though, at that point, with my punk collection consisting of only Ramones, Clash, and Sex Pistols, I did not realize the depth of the ocean that is Mellor. Even though my friends didn't really seem to want to go (although my friend Rob Skarbek almost did go) I considered going myself. At 18, I had probably only been to about six concerts before, and all of those were stadium AC/DC/Van Halen-type affairs. But, because it was a school night, and I was vaguely aware that Joe Strummer didn't just play Clash tunes, and because I was kind of tired, and because I was a little scared to go to a show myself, I didn't go. The next year Joe Strummer died, and I never got to see one of the most famed musical architects live. The disappointment was only magnified later on when I got a few bootlegs of Strummer solo shows and not only did he play tons of Clash tunes, but they were awesome. I have no tale of my life being forever changed the first time I heard a band, and I'd be lying to say that missing Joe keeps me up at night, but it is bitter fruit to know that I will never get to see Joe despite that he was once a 45 minute drive away.
My advice to you is this: Go see the legends while you still can if it is even remotely possible. Keith Morris, Ian MacKaye, The Melvins, Glenn Danzig, and a hundred others are still kicking out the fiercest of jams. They are as awesome as they were on their debut releases. They truly are. Do not miss out on our living landmarks. Go alone if you have to and make friends. You won't regret the bad shows that you go to, but you'll always regret the awesome shows that you missed. (The second worst concert decision I ever made was to see Rush instead of the original Stooges… ugh…. don't ask.) —John Gentile
Today is the 10th anniversary of Joe Strummer's passing, a day that affected many in the punk rock community and in music in general. In fact, if I remember the old Punknews layout correctly, there was a permanent picture of Joe shown on the right hand side of the memorial section of the site. To commemorate Joe's memory, I requested "(White Man) In Hammersmith Palais"—the song that was played at his funeral and one of his favorites that he wrote—on the Complete Control radio show and will be seeing a Clash cover band tonight called The Nuns of Brixton. It's exactly what it sounds like: A band dressed up as nuns covering the Clash.
I have met most of my musical heroes but it's hard to grasp the fact that I will never meet Joe. He is the reason I got into punk rock in the first place. From the first time I heard "London Calling" when I was 11 to when I was 19 and got the silhouette of him from the cover of Earthquake Weather tattooed on my arm I have been infatuated with Joe. He shaped me into the independent person I am today with words such as "Are you taking over or are you taking orders? Are you going backwards or are you going forward?". A reminder from Joe to always push ourselves. "Somewhere in my soul there's always rock & roll" and it's all thanks to Joe. —Brittany Strummer
It's easy to sanctify the memory of a great human being. After all, it's usually considered rude to speak ill of the dead, and this can often extend somehow into ignoring a person's flaws. Anyone who has read much about Joe Strummer's life, with open eyes, can see that he was flawed, that he had faults, and he made mistakes in terms of how he dealt with his schoolmates, his housemates, and his bandmates, among others. That's not the important part, though. The important part is that Joe acknowledged those faults, and made a point of speaking openly about them as he grew older, apparently in an effort to avoid past mistakes.
In his later years his output, both musically and philosophically, was marked less by eloquently expressed anger, and more by a drive toward a kind of righteous compassion. The point being, that we can all change, and we can all be better, for ourselves, and for each other. That's how I choose to remember him, and it's the lesson I hope to live over time.
"Punk rock means exemplary manners to your fellow human being." -Joe Strummer —Andrew Waterfield
It's been ten long years since we lost Joe. It's kind of crazy to think about, 'cause every time the anniversary rolls around the loss hurts just like it did in 2002. Of all of the mythologized rock 'n' roll legends and heroes, I'm not sure I can think of many like Joe, who always lived up to the hype right until the end. London Calling is one of those records you can hear about the greatness of for years and years before finally listening to it, and when you do, it's still better than you expect. And that last Mescaleros album shows that he was just as sharp and with it at 50 as he was at 25. Today, we'll all raise that pint to St. Joe Strummer. RIP. —John Flynn
In the fall of 2007, I visited New York City for the first time. The official purpose of the trip was for the 2007 CMJ Music Marathon, but the only thing I wanted to accomplish was seeing the Joe Strummer mural in person. Aside from finding out it was located somewhere in the East Village, I didn't do any research on what specific block or street it could be found prior to heading that direction on the subway. I figured I would just kind of run into it, because, you know, it couldn't be that hard to find, right? It's not like New York is the fourth biggest city in the world or anything… But despite my naiveté and poor planning, after about ten minutes of wandering, I turned a corner and there it was. It was no longer a picture on the internet, or a rumor heard through friends. It was real, and I was experiencing it firsthand. I felt like I had been pulled to this holy punk shrine by a force stronger than myself, and all I could think to do was pull out my camera and start snapping photos in a covetous attempt to assure my future self that I had been there, done that, and with pictures to prove it. Well, as Joe had etched onto the cover of the Know Your Rights single, (and is prominently featured on the mural) "The future is unwritten," my attempt to control the future by documenting the present was entirely in vain. I lost my camera the night we boarded the plane for home, and with it, all the pictures I had taken. Devastated, I returned six months later to again capture an immortal image of Joe Strummer's legacy. And this time, I brought two cameras with me. I've visited New York City on several occasions since then, making a pilgrimage to the mural each chance I get. It doesn't make up for the fact that I never saw him perform and it doesn't take the place of spinning those great Clash records, but it's a connection I have that I will never forget. And each time I watch the video for Joe Strummer's rendition of "Redemption Song", it takes me back to that chilly fall day when fate led me to where I wanted to be. —Tyler D. Barrett