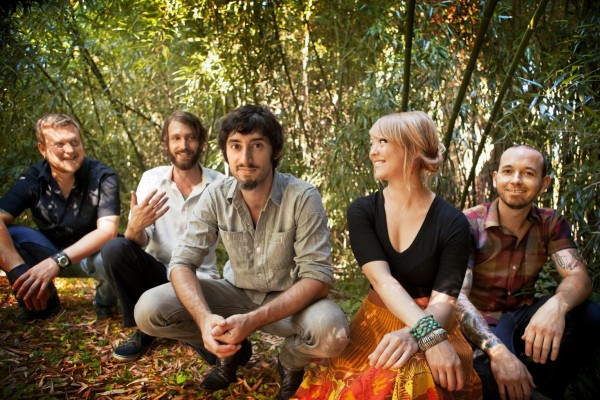 Murder By Death have posted an album of covers, titled As You Wish, to their Bandcamp page. The album resulted from the band's Kickstarter campaign over the summer. The band explains:

One of the high-pledge options was for folks to choose a song for us to cover. A huge variety of songs got picked by people from all over, and we went into the studio in December to record them. We had 15 songs we needed to cover and learned, reworked, recorded and mixed them in a sleepy whiskey-fueled 13 days. Some were silly songs, some classics. It was a riot to learn and record them. As of now there are no plans to release them on any format other than digital and our bandcamp site is the only place you can get 'em.
Among the artists covered are INXS, Weezer, Tom Waits. Elliott Smith, Misfits, Murder City Devils, and more.
In addition, the band has posted tour dates in the US and Europe.
| Date | Venue | City |
| --- | --- | --- |
| May 02 | The Bluestone | Columbus, OH |
| May 03 | The Pilot Light | Knoxville, TN |
| May 04 | Asheville Music Hall | Asheville, NC |
| May 05 | Shaky Knees Music | Festival Atlanta, GA |
| May 08 | Lanificio 15 | Rome, Italy |
| May 09 | Bloom | Milan, Italy |
| May 11 | Razz 3 | Barcelona, Spain |
| May 12 | La Lata de Bombillas | Zaragoza, Spain |
| May 13 | La Boite | Madrid, Spain |
| May 15 | La Maroquinerie | Paris, France |
| May 16 | The Great Escape | Brighton, United Kingdom |
| May 17 | Dingwalls | London, United Kingdom |
| May 20 | Komplex Klub | Zurich, Switzerland |
| May 21 | WUK | Vienna, Austria |
| May 22 | Privat Club | Berlin, Germany |
| May 27 | SLO Brewing Co. | San Luis Obispo, CA |
| May 28 | Fulton | 55 Fresno, CA |
| May 29 | Beauty Bar | Las Vegas, NV |
| May 30 | Soho | Santa Barbara, CA |
| Jun 02 | Wooly's | Des Moines, IA |
| Jun 04 | George's Majestic | Fayetteville, AR |
| Jun 06 | Mindframe Theater | Dubuque, IA |