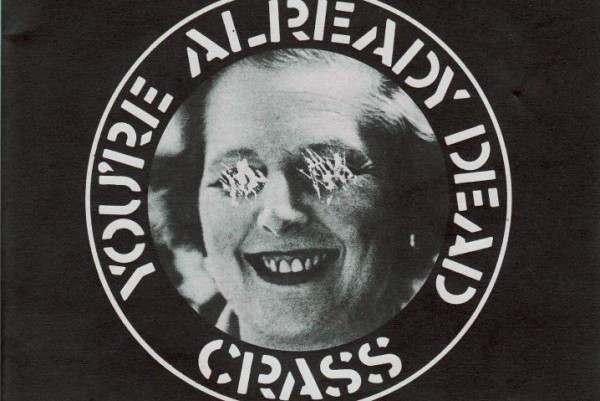 The death of former British Prime Minister Margaret Thatcher yesterday led many musicians of her era to look back at her controversial legacy. Her social policies in the UK, her unwillingness to impose sanctions on the apartheid government in South Africa and support for Chilean dictator Augusto Pinochet among other things famously led to protest songs from The Specials, The English Beat, Pink Floyd, Elvis Costello, Crass, Billy Bragg, and even recently, Frank Turner ("Thatcher Fucked the Kids")
Morrissey probably had the most brutal description for the late prime minister, calling her: "a terror without an atom of humanity."
Some of those musicians reflected on the Thatcher era in the UK, like Jerry Dammers of The Specials:

"Ghost Town" was our political reflection on the situation in the 1980s, which wasn't good, and that Thatcher's own policies had helped create. I'm proud to have put out songs opposed to her as she changed our country for the worse. Britain is no longer self-sufficient and we don't pay our way in the world anymore.
Dave Wakeling of English Beat noted:

She made competitors out of neighbors, and people stopped talking at bus stops, even about the weather, in the shadow of her affected, pretend posh accent. Margaret made herself big on the tears and suffering of others, more Cromwell than Churchill, yet however much pain she caused us, I wish comfort and solace to her family today."
Morrissey, who wrote "Margaret on the Guillotine" was even less charitable:

Every move she made was charged by negativity; she destroyed the British manufacturing industry, she hated the miners, she hated the arts, she hated the Irish Freedom Fighters and allowed them to die, she hated the English poor and did nothing at all to help them, she hated Greenpeace and environmental protectionists, she was the only European political leader who opposed a ban on the Ivory Trade, she had no wit and no warmth and even her own Cabinet booted her out. As a matter of recorded fact, Thatcher was a terror without an atom of humanity
Canadian music commentator Alan Cross "thanked" her for inspiring a generation of protest music
Billy Bragg joined CBC Radio to provide his commentary. The Guardian also made reference to a Bragg song, using it for a pointed criticism noting how "Between the Wars" plea for kindness "offered a eulogy to the virtues that she singularly failed to embody. "