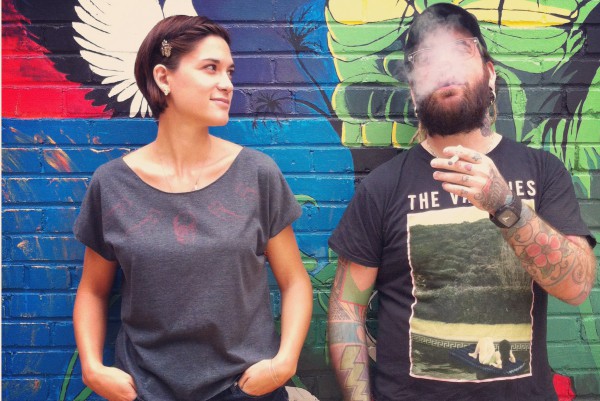 In its third year, Montreal's Pouzza Fest is starting to look a lot like a north-of-the-border version of The Fest, and that's just the way the festival's organizers want it. That's because when Hugo Mudie and Helene McKoy conceived the idea a few years back, Mudie always saw Gainesville's annual throwdown as the model for a proper punk rock festival, and with three days (May 17-19), 12 venues and 150 bands, including American Steel, Crime in Stereo and Me First & the Gimme Gimmes, it seems that the vision has become reality.
Punknews interviewer Adam Eisenberg rang up organizer Helene McKoy to get the details on this year's festival, solicit some advice for newbies, and learn a little bit of French.
How did the idea for Pouzza Fest originally come about?
We were working together five years ago. I was doing PR at a label company, and he was doing booking for the bands. We worked together on a project… I was doing the promo so I was talking to him a lot, we got along very well and we became friends. We were like "we can do this without having to work for anybody, just the two of us, and we can make a living of it."
So we started a company, Le Curie. At first we were a booking agency, but we realized that the thing we missed most in Montreal was a punk rock festival like The Fest in Gainesville. I wasn't really into that scene. At first I wasn't. When I met Hugo, I didn't even know the Sainte Catherines. It was kind of new for me, but I studied event production, and that's what I really wanted to do. Hugo always had the idea of doing something like this and I was like "yes, we should do this." And that's how it started.
You mentioned The Fest in Gainesville. Did that serve as a model of sorts for you?
It was for Hugo. My first time in Gainesville was last year, so I know how it worked, but I didn't know The Fest really because I hadn't been there, but Hugo said we want people to be in downtown Montreal, and we can make something in the heart of Montreal that's more than "you go to a show, and that's it." We want a feeling, in the streets, outside the venues, between people, and we felt that Montreal was the thing we had that other cities don't. Montreal is a cool city. It's a beautiful city. I've never been in a band and played Montreal, but I hear a lot of bands saying that playing in Montreal is amazing. The Fest in Gainesville, they create this feeling that's so cool – people playing in parking lots and things like that – this is what I like.
Did any other festivals influence you?
Hugo went to Grozerock two weeks ago. We really want to take care of the bands as good as they do. It was so well-organized – shuttles for all the bands, free booze, and you never need anything. Everything is there for the bands. The most important thing [we said] when we started the festival was let's try it, but the main thing is taking care of the bands as best as we could so they are happy and want to do it again. They're talking to other bands about the festival saying "you should go to Pouzza Fest, it's so cool."
Montreal is a much bigger city than Gainesville. How do you capture that same feeling when there are so many other things going on?
Of course it's harder because Gainesville is known for punk rock. And Montreal – there are a lot of punk rock bands from Montreal but, it's so big. The thing is that during this weekend, there's a holiday on Monday, so it's three days. That's why we chose this weekend, and there's nothing going on in Montreal. Usually the festivals don't want to do anything on this weekend. People think that the weather is not good enough, it's not the summer yet. It's kind of a tricky weekend, but we were like "no, it's the perfect weekend." It's the first festival in Montreal in a series of a lot of festivals. I think in Montreal, if you want people to pay attention to you, you have to be really specific in what you are doing. Since we have a really specific crowd and a really specific genre, people are more interested in us because it's not a festival of just music, it's punk rock, it's precise, and I think that's how we can make our place in Montreal.
So what's new and exciting at this year's Pouzza Fest?
The outdoor venue. We had this goal to do something outside since the beginning, but we wanted to wait for good timing, because we don't want to do something too big, and then [find out] it's not working, so we're doing it step-by-step. The outdoor show was really more for the kids show, because last year the Pouzza Bambino was so fun and it was really a great success, but everybody was like 'you have to do something outside with the kids' because the venues are not really that cool for a kids show. It's hot and kids can't play, so we asked for a grant. There's this organization in Montreal that is helping all the festivals, and they're helping us, so we asked them for a grant. They really like our project, Pouzza Bambino and the Pouzza acoustic shows outside, so we have this outdoor scene right on Sainte Catherine St., in the heart of Montreal and Sainte Catherine St. During the weekend it's closed, so there are going to be a lot of people because no cars are going to be there during those three days, so it's going to be really cool. It's a part of the festival we really want to bring, and it's really important, the family side. It's really something that we want to be bigger, I mean, you have Masked Intruder playing, so it's going to be awesome.
It's not too common for a punk festival to be so kid-friendly, is it?
No it's not. Hugo has two kids. I don't have any but I'm surrounded by a lot of kids because I'm getting older. Punk rockers are getting older, they have children, but they still want to hear the same music. They still want to go to shows and everything, and we felt that a lot of bands that were really into punk rock in their 20s, now in their 30s - they're getting more soft, but they still have the same crowd, but that crowd has kids. So we wanted to involve those people in our festival and it's working, and it's giving a smoother side of the festival. It's not something aggressive or more cliché about punk rock, because we are fighting against those clichés a lot. People are asking "oh, you're not afraid there's going to be a riot?"
Does punk rock really have that reputation in Montreal?
In Montreal we have to fight against this and people are surprised when I talk about what I'm doing because I don't have Hugo's look. I don't have any tattoos. I'm not looking like the cliché punk rockers you think about. I'm always saying, it's just fast music, it's just fast rock and roll, don't be afraid.
What bands are you personally looking forward to seeing this year?
This year our goal is to go see shows because last year, I saw one show. It was amazing. It was the Suicide Machines' secret show at three o'clock in the morning. It was crazy. But this year I really want to go to the Pouzza Bambino, of course. I want to see Mike Park since he's the nicest guy ever. I don't want to miss American Steel, I love that band a lot. I love The Slackers, and Vic Ruggiero is playing solo at the outdoor scene on Sunday. The Saturday show at Club Soda with Saves The Day and Braid is going to be awesome. It's going to be a really great night. I'm going to try to be there but Saturday is really crazy. There are a lot of cool bands at Pub St-Ciboire. This venue is more folk-rock bands and I think it's going to be really cool. They have a big terrace so you can stay outside and the restaurant across the venue, they have the most amazing food, so I think that's a good place to stay during the day.
Are there any local Montreal bands people should check out?
There's this band Laureate. They are playing on Sunday night at the Foufounes with Dead To Me and Lemuria. They are a really cool band if you like a more emo, pop punk band, they're a really great band from Montreal. They just released a great EP a month ago. You also have The Hunters, a band from Quebec, young guys from Quebec.
What advice would you give to those heading to Pouzza Fest for the first time?
My first advice would be to find yourself a bike. The venues are really, really close, but this year we have 12 venues and there are four venues that are a little further than the others, but you don't want to miss any shows at those venues. There are a lot of cool bands playing and there's going to be secret shows, so you have to get there fast if you don't want to miss the show. Then I'm going to say don't miss the barbecues. We have two venues during the day where there are going to be acoustic shows and barbecues, at Katacombes and Foufounes Electriques. It's one of the most fun things because there are a lot of bands there, you can meet people.
Are there any words that non-French speakers should know in case they run into trouble?
You can learn to say "thank you" in French. That helps a lot. Merci. When you know the polite words you can get out of any situation. Je m'excuse. I'm sorry. J'Montreal. I love Montreal. People will love you instantly.
Now that's you've done this a few times, you probably have a crazy Pouzza Fest story, right?
Last year the entire festival was something crazy because there were student riots going on. When I heard that people were locked up in a venue by the cops and they had to close the ventilation because the pepper spray was entering in the venue… I was like 'Am I dreaming, is this really happening, I can't believe it.' Then this one guy who comes into the headquarters with no shoes and his bracelet was ripped off and he was like 'the cops took my shoes.' OK, so I don't know what to say to that, and he's like 'I don't care if I don't have any shoes, I just want another bracelet please, I don't want to miss any shows.' And I said yeah, you're so cool, I'm going to give you another pass. So this guy finished the festival with no shoes, but he had fun. Last year was really crazy. The bands were like 'What's happening here?" So I think it brought something really special to the festival. Even though it was hard and we were really worried about what could happen, it brings something more to the festival. When I think about it now that it's been a year, it wasn't cool, but there was electricity in the air.