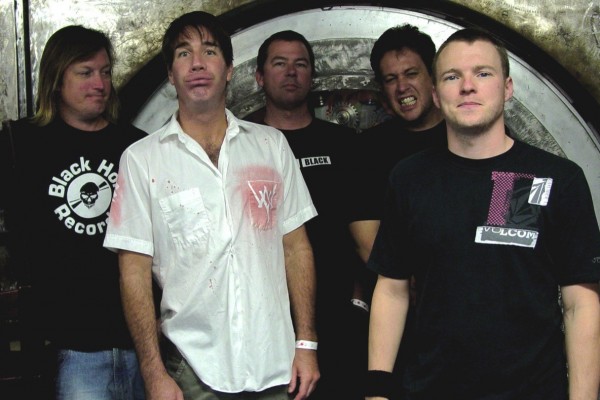 Guttermouth have announced a tour of Australia
The band still has some East Coast tour dates next month and then will head to Australia for the aforementioned final tour. Their last album was 2006's Shave the Planet.
Update: The breakup is apparently an unconfirmed rumor, so we'll just leave this as a tour announcement.
| Date | City | Venue | With |
| --- | --- | --- | --- |
| August 9, 2013 | Adelaide, Sa(Australia) | Fowlers | Licensed/All-Ages |
| August 10, 2013 | Warrnambool, VIC(Australia) | The Loft | 18+ |
| August 11, 2013 | Ferntree Gully, VIC(Australia) | Ferntree Gully Hotel | 18+ |
| August 14, 2013 | Hobart, TAS(Australia) | Brisbane Hotel | 18+ |
| August 15, 2013 | Geelong, VIC(Australia) | Barwon Club | 18+ |
| August 16, 2013 | Ballarat, VIC(Australia) | Karova Lounge | 18+ |
| August 17, 2013 | Melbourne, VIC(Australia) | The Evelyn | 18+ |
| August 18, 2013 | Falls Creek, VIC(Australia) | The Man | 18+ |
| August 19, 2013 | Mt Hotham, VIC(Australia) | Swindlers | 18+ |
| August 21, 2013 | Jindabyne, NSW(Australia) | The Station | 18+ |
| August 22, 2013 | Canberra, ACT(Australia) | Uc Live | 18+ |
| August 23, 2013 | Sydney, NSW(Australia) | The Manning Bar | 18+ |
| August 24, 2013 | Toukley, NSW(Australia) | The Beachcomber Hotel | 18+ |
| August 25, 2013 | Newcastle, NSW(Australia) | Cambridge Hotel | 18+ |
| August 28, 2013 | Coffs Harbour, NSW(Australia) | The Coffs Hotel | 18+ |
| August 29, 2013 | Byron Bay, NSW(Australia) | Great Northern Hotel | 18+ |
| August 30, 2013 | Brisbane, QLD(Australia) | The Tempo Hotel | 18+ |
| August 31, 2013 | Gold Coast, QLD(Australia) | The Parkwood Tavern | 18+ |