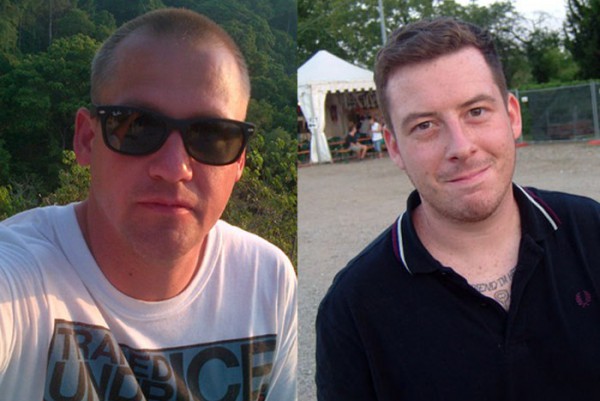 Editor's Note: A (not really that) new thing we're going to initiate here at the 'org is a monthly series that features a band interviewing another band they either really like, respect and/or just enjoy. Our first in this series has Terror's Scott Vogel interviewing Make Do and Mend's James Carroll. If you're in a band and want to get involved with this feature or have an idea of who we should ask, email kira@punknews.org. And with that we'll hand it over to Scott.

Every year people tell me to check out this band or that band knowing that I love Hot Water Music. I usually do and am usually let down for the most part. The first time I heard Make Do and Mend was at the Lost Horizon in Syracuse, NY. Friends had been telling me I'd love them so I went upfront for their set. They definitely took me by surprise with their sound, energy, and power. After they were done, I went up to their merch table and asked them a few questions about music and life. From that moment on they have become one of the bands I listen to most often. I love all their releases and still see them growing and getting better as time moves on.
Can you name one specific moment when you said to yourself, "Damn we did it, Make Do and Mend`s dreams are coming true."
I'm not sure there was one moment in particular that was the first, but there have definitely been a few of those moments. The odd thing about it is those moments have happened at such wildly different points in the band's life. For example the first time we ever did a full US tour I had one of those moments. We booked it ourselves and we were playing in basements. The next time was when a label first released one of our records on vinyl. I think the last time it happened was on our first Australian tour a couple years ago. I'll be interested to see when it happens again. Hopefully it does.
Can you tell me what was going through your head when you wrote the lyrics to "Desert Lily?"
I'm sure this will sound completely sappy and ridiculous, but when I'm on tour I miss my lady a lot. I wrote the bulk of Desert Lily in the back of the van with an acoustic guitar while the rest of the guys ate In and Out in LA. The lyrics are a product of working through feelings of missing home, feeling guilty for constantly putting our life at home on hold when I leave, and appreciating the fact that I have a partner and best friend to always come home to. I'm a pussy.
Was there a band you saw when you were young or looked up to that made you say, "I wanna be in a band, I wanna do this"?
There were definitely a few. I mean the first one initially was Blink-182 as I'm sure it was for most of the dudes my age playing in punk bands whether they'd like to admit it or not. When I started getting deeper into punk and hardcore it was bands like Hot Water Music, who to me, were THE touring punk band. To this day when it comes to making decisions with the band I still think, "What would Hot Water do?"
If you were to take a drive today, what's some of the stuff you'd listen too?
I'm kind of a freak, but I prefer to drive in silence. I like being alone with my thoughts. If I put on anything it's usually standup comedy or an audio book. I also like the NPR app on my phone. The sound of speaking and conversation is a lot more comforting to me than music. There is some new music that I've been digging lately though. The newest record from the band All Get Out is something else. The newest Paramore record and also the new Ghost record have been getting a lot of play - really by the whole world. I feel like those two records are really stirring it up right now.
Why did you go to Rise Records for your last LP and how is it working out?
We wanted to put out a record with a label that got our band and believed in the plans that we had for it. We also, for better or for worse, have never liked taking the road most travelled by other bands. We wanted to challenge ourselves by working with a label that wasn't necessarily familiar to us. As labels go, Rise does a nice job.
Touring with Hot Water Music must have been pretty fucking cool. Any good stories to share?
No real crazy stories or anything like that, but I definitely view those dudes as sort of like uncles. They've given me a lot of good advice on life, playing in a band, etc. Everything that I've ever wrestled with while doing this for a living, they've been there, and have come out on the other side of it. Like I said before: They are the godfathers.
What are a few countries on the Make Do and Mend list to conquer?
[We] Really, really want to get to Japan/SE Asia; South America is a big one too. I also want to play Norway really bad.
What was the worst tour you ever did?
Warped Tour.
What are a few things we would find in your bag on the road we wouldn't expect?
I've got a disorder called Sleep Apnea, which basically means that my airway collapses while I sleep and I stop breathing. So in my backpack is a machine that consists of a small air compressor and a face mask. I wear it every night.
Favorite music video ever?
Good question. Probably "Remedy" by Hot Water Music, or "How Soon is Now?" by The Smiths.
What's the city on tour in the USA when you're driving into it you say to yourself, "I hate this place. Not again." And on the flip side, where is your favorite?
In terms of playing, in my humble opinion, Richmond, Virginia is the worst goddamn place on earth to play. But I really love Richmond. It seems like a great place to live. I love getting tattooed there, I love eating there, love hanging out. In terms of driving through, Pennsylvania and Ohio are pretty shot. I love being in the southwest. Arizona is one of my favorite places on the planet.
What's up next for you guys and when will we be hearing a new record?
We're in the beginning stages of thinking about a new record. As the rest of this year unfolds I think it will start getting firmer and firmer. New records are things that we really like to let plan themselves. We think it's important to let them happen because we're naturally writing music not because we've set some sort of timeline.