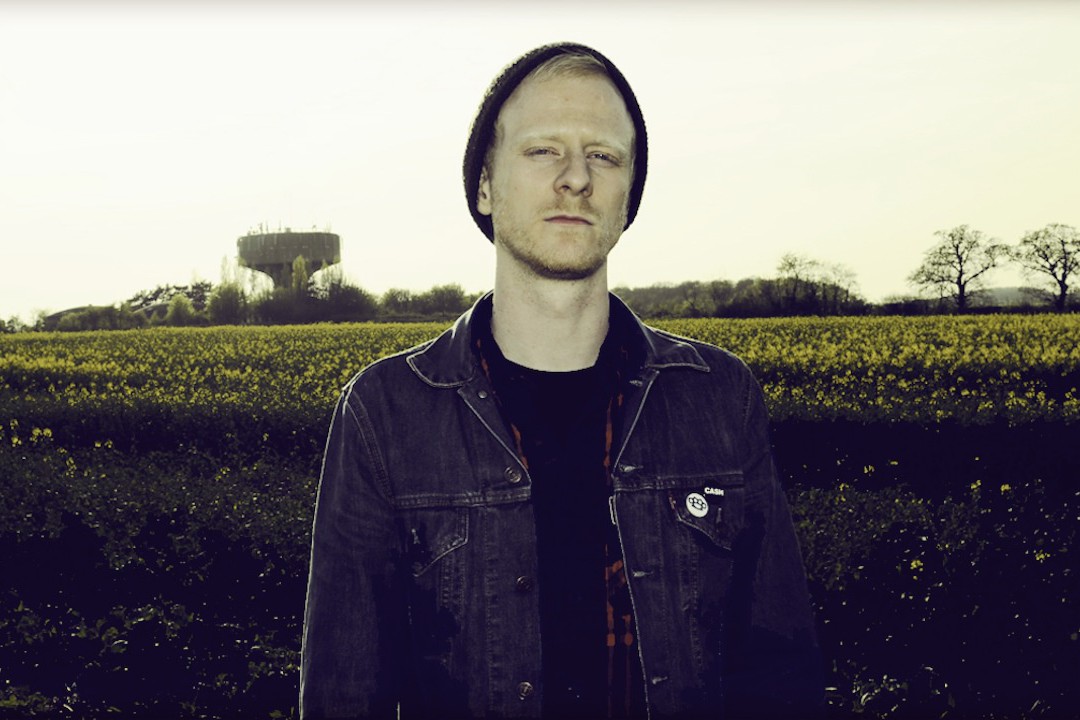 On the heels of his 2012 debut, Storm from Red Scare Industries native brit Sam Russo is not slowing down. Juggling full-time jobs alongside a music career is tough, but with U.K dates with Tim Barry that started on June 21st and his first hefty U.S tour the rest of the summer with fellow Red Scare artists Masked Intruder and Elway, it look's like it's paid off. Staff interviewer Laila Hanson spoke to Russo about songwriting, working day jobs and getting a record deal by way of a good word from Dan Andriano.
July will be the start of your first major US tour. How have you prepared for it? How have you come to this point?
I feel like I've been preparing for it forever. It's what I've been working for so long that I almost don't believe it's happening. I started writing acoustic songs in 2008 in an old trailer I was living in with my family while we built a house, and as far as I'm concerned everything I've done since, all the touring, all the jobs and everything in between has been building towards this.
It feels like a dream sometimes because I think when you start down a path in life there's always a point where you wrestle with what you are and where you're going, and if you finally dedicate yourself to whatever it is you do and you accept that it's all or nothing, you get used to going at things uphill. I don't mean that in a bad way, I think the struggle is what it's all about; you're just always on your toes and never quite at ease with anything, so it takes some adjusting when you get dealt a good hand all of a sudden. You kind of have to look at it for a while before you know what to do with it. So when my album came out I made sure I didn't stare too long and hold up the game I just kicked it into gear and took everything on knowing that in a year's time I'd be flying across the Atlantic to play six weeks of shows. It's been wild and I'm just letting it dawn on me nice and slow and taking it all in. I don't think it will fully sink in until my passport is stamped and I'm actually sitting in the van. I'll probably have a complete meltdown at baggage claim when it hits me. Start as you mean to go on, right?
Let's talk a bit about that struggle. Toby [Jeg of Red Scare Industries] tells me you do some manual labor. Is that something you just fell into? How did having a full-time day job in preparation of your album and tours affect you in the songwriting sense?
I've always worked like this so I think it plays a big part in my songwriting as it does the rest of life and who I am. Right now I work in a wicker basket warehouse unloading and loading trucks and packing orders. I'm really lucky because they let me take whole months off if I need to and I just go right back and pick up where I left off. I've had some jobs that a lot of people would consider pretty dead-end, but I've kept moving and tried not to get stuck and I always do my best to focus on the good. You meet some pretty interesting folks if you're prepared to just work anywhere. In a cosmetics factory I met one of Rod Stewart's old girlfriends, she had a load of pictures of them together that she brought in for me and he bought her cars and she told me all about it on our lunch breaks. I work with a guy right now who won a lottery syndicate at his old job 20 years ago with three other guys, they won millions and they're all dead and he's completely broke and living with his parents. He thinks he's cursed; he has the most amazing stories. I was working at a paper factory for a while a few years ago and a woman came in and we got to talking because I was listening to The Pogues and I told her I played music, anyway I gave her my cd because she said her husband was into folk and he was always looking for new music. So I asked who her husband was and it turned out to be Warren Ellis (the novelist/graphic novelist) and he was really into my record and he put me on his website and said some really nice things about my music. I did a little work with a guy who's now one of the top prison guards at the prison near my house and he gives my cd to inmates all the time so some pretty high profile people have heard my record in jail which I think is pretty great.
I still write when I'm working, if anything I write more, but it is exhausting working a 12 hour day, six days a week and then picking up the guitar - and that definitely comes out in the songs. It takes a lot more discipline sometimes but if I get taken with an idea or a story I usually find a way to write it down or keep it in my head until I can. I keep a notebook with me all the time and it's just filled with things I hear and stories and dreams. So I actually think it has a huge impact on my writing now that I think about it! I would definitely be a very different songwriter if I had a nice office job that I loved or a really great career. As far as how I got here, It's just how I've grown up, I don't feel entitled to anything if I haven't earned it somehow and this is the way I choose to earn it. This winter was pretty brutal though, I wouldn't wish unloading 50 foot containers of wicker in minus nine and snow on anyone! That being said, looking back I had some fun.
The various jobs you've had sound really amazing and I can tell lyrically how you were inspired by some of your experiences. I especially like the simple titles for some of your songs, like "Factory Rain" and "Tinned Peaches." The whole idea you mentioned about stories and dreams and the really organic nature of these titles and lyrics is really resonating. Musically speaking, is that what made you draw to an acoustic guitar as opposed to say, synthesizers and heavy metal?
In the beginning I think the reason I picked up an acoustic guitar was that I could play it in the trailer. There were five of us living in there and the walls were paper thin so it was still pretty loud and I either used to play sitting on the bed with a sheet over me if it was late or my brother wanted the bedroom I'd walk three miles to my grandma's and write in the spare room there. So it wasn't really a choice but I think it's grown out of that. It's the same now though, where I'm living between tours I can't make noise and I don't have a band so I'll carry on writing acoustic songs when nobody's around. I was actually raised on a lot of heavy music like AC/DC, Thin Lizzy, and Meat Loaf, so it could've easily gone that way too but I live on the freedom of being able to just pick up my guitar and go - I don't have to worry about organizing anyone but myself and I can pack everything I need to live into my car and just see where I end up. Usually back where I started, but it's pretty liberating to know that if I want to pack up and go I can.
How did you get involved with your UK and US labels? Are you a fan of any of your label-mates?
I ended up working with Red Scare after I toured with Brendan Kelly and Dan Andriano. We just hit it off and had a great tour together and at the end they said they had a friend who might be interested in my record, it turned out to be Toby Jeg who rang me up a few weeks later completely hammered in a bar with Dave Hause at 4 a.m. and we've been friends ever since. We'd never met at that point so I think Toby went on Dan and Brendan's word, but he asked people I'd toured with and checked out my older songs, then when we talked it felt like we were on the same page with what we wanted to do so it made sense for Red Scare to put out Storm in the US even though it was a bit of a gamble for him. The UK release was handled by my good friend Andrew Horne at Specialist Subject. He's in the best UK punk band going, they're called Bangers and I've toured with them a lot too and he had been interested in putting out the album for a while so when it was finally done he was really up for it and he's done a great job with it. I'm into what both labels put out, Toby and Andrew are such hard working guys and they both have a great ear for new, exciting and fun music so I can't really go wrong, I'm in very good company!
How did you connect with Chuck Ragan to do your 2011 split?
The split with Chuck came about mostly through my friend Jimmy Islip - he and Chuck were drinking one night and Chuck said he wanted to do a split with his favorite UK songwriters, and Jimmy held him to it and made it happen basically. Chuck called me up from Europe one day and I didn't believe it was him, I actually hung up. I thought it was one of my friends doing a really bad impression of Chuck Ragan from some number I didn't know, but when the phone rang again and the voice at the other end explained that it was really Chuck and that he wanted to do a record with me I felt pretty ridiculous. It was fine though he thought it was hilarious. Chuck's one of the kindest and most generous men I've ever met, he's a brave guy too and he takes a huge amount of pride in what he does so for him to choose me for that split was an honor. I played the London Revival Tour show off the back of that split and that was mind blowing. There were 2000 people, I was so nervous I threw up before I went out there but it was the most fun I think I've ever had and I feel very lucky to have been there. The Revival Tour is just phenomenal, I think it's captured so many people's hearts and imaginations and it's all down to Chuck's hard work and spirit, and I hope it goes on forever.
Now that your debut has been out and you're embarking on touring, what are your plans for the future? Do you write a lot on the road?
Well, Storm has been out for the best part of a year now and I've been touring it pretty hard over here and in Europe so naturally the US is the next step. Beyond that, I'll be writing and just carrying on trying to get better at what I do and looking for a way to reach new people with it. I write on the road but mostly just words. I have a notebook that I cram with everything I think of day to day and a lot of that ends up in songs. I basically write in the same way wherever I am, if something dawns on me and I think of an image or a story, it doesn't matter if I'm at work or on tour I have to get it down and explore it no matter what I'm doing or else it loses something. I've hidden in my janitor's cupboard at work for huge chunks of time just scribbling and humming and getting it all down before I forget or some emotional element starts to drain out. I've been caught by all kinds of bosses and people while writing when I should be doing other things but if it hits me I just have to put it on paper, it's like when you wake up from a dream, if you don't tell someone or write it down the power of it slowly fades until you don't even remember it, for me it's the same with songs. I used to make excuses about it with people but now I'll just whip out the notebook mid conversation and write down whatever they just said or whatever it made me think of. My friends and family are used to it now and they don't bat an eyelid at being constantly interviewed and documented! I also want to work on my voice and my guitar playing, just knuckle down and learn some new things, and I can't wait to start demoing the new record which I have about five songs for so far. I'm going to be very busy!