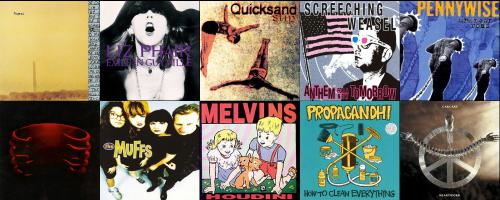 1993 was a great year for music. In our scene it's often overshadowed by 1994, when Green Day, the Offspring, Bad Religion, NOFX, Rancid and Jawbreaker all released transcendent and/or breakthrough records and punk really broke into the mainstream. But really, it was already on the cusp in '93--it was just that no one knew it'd get so huge.
In lieu of a traditional reviews update this week, the Punknews.org review staff waded through some of 1993's best records, whittled them down to the ten we liked the most that weren't getting the 20th anniversary treatment elsewhere, and took a look at the legacy these records ended up creating, mostly by accident. Let us know what you think, and be sure to tell us we suck for not including Rancid, Recipe For Hate, Pussy Whipped, The Daily Grind, On The Mouth, Where You Been, Siamese Dream, etc. Regular reviews return next week. We've posted some new reviews.
You can check out any of our reviews right here.