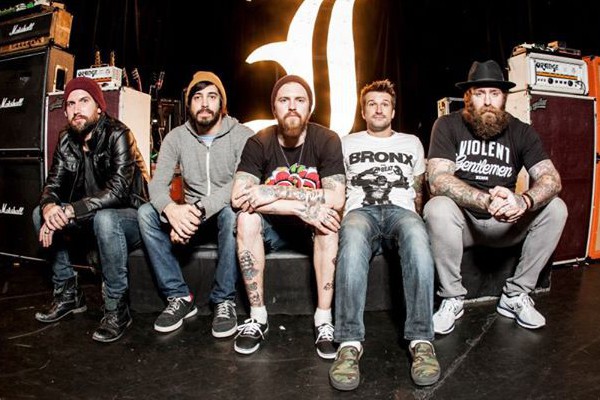 Every Time I Die may have released their most recent album for Epitaph Records, Ex Lives, over a year ago, but they've been hard at work since, touring anywhere they can and with an eclectic stable of bands from Hatebreed to New Found Glory. The band's tour itinerary includes the recently completed All Stars tour along with Terror, Iwrestledabearonce, and many more. Punknews staff interviewer Gregg Harrington spoke with Every Time I Die vocalist Keith Buckley about the tour and what the band has been up to in support of Ex Lives.
The band is currently in the midst of the All Stars tour with Terror and others. How is the tour going so far?
It's a long tour; I definitely give these kids a lot of credit. The doors open at 2 p.m. and some of the venues are no re-entry, so the kids are in for the long haul. It's awesome. There were a few stumbles in the beginning but things are good. We're finally in the swing of it. The kids are definitely getting their money's worth every night.
The lineup of the tour itself is pretty diverse. What kind of crowds are coming out each night?
It's so weird. It's their own. I think the band that's doing the best job of converting people that didn't know about them before is Terror. Every night they play at 7 p.m., a perfect time, and it's almost like it works in shifts. There's one kind of crowd during the day and another at night, and they're playing right in the middle. A bunch of kids that have never really listened to hardcore before or done a stage dive before are definitely loving their live show.
I had a feeling you were going to say Terror. It always seems like they're the one band that sticks out on a tour.
Yeah, and if you like hardcore music, you should like Terror. It's that simple. If you're a fan of aggressive music, that band is perfect.
With Ex Lives being released over a year ago, what is the set list looking like each night?
Well, we do a regular set of a good mix of songs. I think of the 12 songs off Ex Lives, three will be switched out with other ones. Then we do a quote-unquote encore of Hot Damn from front to back. It's cool because we normally play a normal set and the Hot Damn parts of the set we have to replace those with other songs.
Speaking of your newest album, it got very favorable reviews, including a rating of "very favorable" by the BBC. How did the band approach recording Ex Lives, and was it different than the way you've approached prior recording experiences?
It's hard for me to speak for everybody because I don't really know what they went through but for me it was really stressful. I know that it was probably one of the hardest records I've ever done. It was really involved. In the time between the record prior to that, I put out a record with The Damned Things, and I think a lot of people thought that meant Every Time I Die was taking a different course. I felt like I had a lot to prove, which is something I've never really considered. Making an album I always just follow myself and my love of doing it, but this time I had to keep in mind that there were some expectations I had to meet and exceed. For me, that was much different. But what was weird was that the actual recording process was a lot less stressful. It was more like one take, let's do it, the emotion is there and it doesn't have to sound perfect.
It has been a few years since Punknews last talked to a member of Every Time I Die, and you've since directed the video for "Underwater Bimbos From Outer Space." Was that the first time you had served as a director on a music video and what was the experience like?
It was. I didn't even expect that title to get tagged along to it. I was just the guy that found the clips online and tried to shuffle them according to imagery and everything. I went to the deepest depths of the internet, so if I earned the title of Music Video Director, it's a privilege. Definitely wasn't in charge of other human beings, but it was cool.
Do you think you'd ever be up to actually directing people?
Oh yeah, I would love to. I really like overseeing music videos and I feel like I probably would like to have a hand in our music videos as far as artistic vision and everything, so if I had the opportunity to do it, I would.
That's something I always thought was interesting, for artists to take the reins on things like music videos because no one knows what an artist wants more than them.
Exactly. Directors can always come up with an idea, but it's just their interpretation of the lyrics. It'll always differ from one person to the next.
I've always been excited to see the announcement of an Every Time I Die tour, because you guys always tour with such diverse bands that it's always a surprise to see who you'll be sharing the road with. What are some of the more memorable tour lineups the band has been a part of? Gwar, especially as far as childhood is concerned. Gwar was always the band that Beavis and Butthead were into; the whole point of the video game was to get to the Gwar concert. They were always this surreal circus act to me, so to actually tour with them, meet them, play with them, get eaten by their monsters, it was fucking extraordinary. On paper that was the best tour, but we're not touring on paper. I mean, this is how we live our lives and sometimes you have to change it up to keep it exciting.
Are there any bands you haven't had a chance to tour with that you'd like to?
What's weird is that we've never toured with Converge. We've played a few shows here and there with them, but we've never done a full tour with them. I'd love to tour with the Deftones. They've been my favorite band since I was 16 years old and the biggest inspiration on me to make music. Hopefully someday I'll be in a position where they'll take my band on tour. That alone would be an awesome tour: Deftones, Converge and us. Put it in House of Blues-size venues and keep it kind of intimate. That's in a perfect world though.
In your previous interview with us, you were asked what longstanding hardcore bands you were a fan of. What new bands are you currently digging?
The thing is I don't really have my finger on the pulse of new music. I know I was really impressed with Balance and Composure lately. I think they're doing incredible stuff. I'm really into the new Norma Jean record. I think it's the best release they've ever done. That's not really new bands though. This always happens, as soon as I hang up the phone I'll say "fuck, I forgot about this!" I can't stop listening to the new El-P and Killer Mike record too, it's phenomenal.
Once the band wraps up the All Stars tour, what does the future have in store for Every Time I Die?
Not immediate. I think we're going to take some time off in September. Our drummer's getting married. We're going to Australia in October and I'm not sure but we might be writing a record after that. Hopefully the mood will strike us and we'll be able to write when our schedule allows.
Great. Thanks for taking the time to talk, I appreciate it.
Absolutely, thanks for the time.