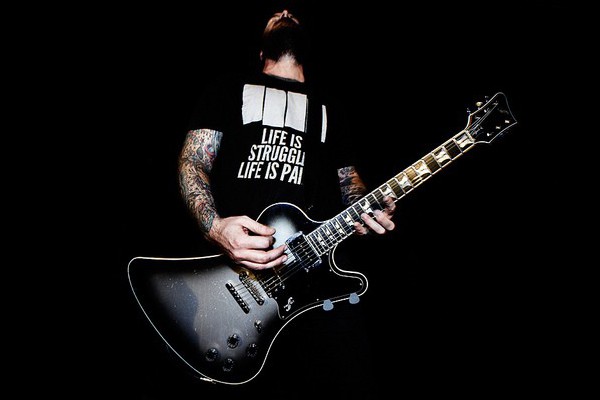 Coliseum has mastered the art of keeping a strong pace in both touring and album writing. Even with numerous releases under their belt, front man Ryan Patterson, keeps himself busy with not only leading Coliseum but is a graphic designer by trade, juggles two of his own side-projects (Whips/Chains and Black God) and is the co-owner of online merch and record distro, Shirtkiller. With a new addition to their line-up and constant touring, Amelia Cline was lucky enough to have the chance to talk with him a few weeks back and now a few months after their release of Sister Faith on Temporary Residence and before the band takes off on a month-long run around the U.S.
For Sister Faith, when did the writing begin? Who typically heads the writing process in Coliseum?
We'd written a few songs here and there as far back as summer 2010, I think "Bad Will" was written in Fall 2010 and there was a song we ended up dropping called "Decay Delicately" that was demoed the same time we recorded "Ghost Of God" for the Parasites EP. But the writing seriously began in late 2011 and early 2012 when we took our usual winter hiatus and started focusing on writing new music for what became the Sister Faith album. I generally work on ideas and demos on my own first, sifting through ideas and getting things to a reasonably focused point then eventually sending the songs that seem worthwhile to the other guys. Once they have those rough demos we get together and see what works and what doesn't, they add their parts and we all refine the initial ideas. Sometimes songs are very similar to the original demos and other times we completely rearrange a song or create something new from a small part of another idea. For example, the three note guitar part from the intro/outro to "Late Night Trains" was part of the verse of another song but we started with that musical phrase and the song came together pretty organically and quickly during practice. "Used Blood" was a bridge riff from an entire song Carter had written on guitar, I singled out that part and we built the new song from there. So while I create the blueprint to most of the songs, they certainly wouldn't be the same without input from the other guys. Kayhan Vaziri is an incredible musician and very new to Coliseum. What is most exciting about having his musical influence at the table now in terms of writing? Is there anything in particular about his style that you feel like will play in as a positive factor in the near future? How is the band adjusting to having him step in?
When Kayhan joined the band we had written a little more than half of Sister Faith but everything finally clicked and kicked into gear once he was there with us. He and Carter have been playing in bands together since they were kids so they are a perfect rhythm section. I honestly never really notice them communicating visually while playing, they seem to just lock in naturally… It's pretty much second nature to them at this point. Kayhan was able to easily handle anything I threw at him musically, he's definitely a far better player than me. I think we were able to be more of the band we wanted to be and really use the bass guitar in a stronger role in the band. That was the most exciting thing initially when he joined the band. He fit right in as a member of the band, we were all friends before, and I can say without a doubt that this is the strongest we've ever been in terms of playing and being on the same page in almost every regard. I'm looking forward to writing the next album with him in the fold from the start.
There's a jump in sound, maybe motivational changes, from House with a Curse to Sister Faith. Can you explain the change in pace and what influenced that?
There wasn't an intentional change from House With A Curse to Sister Faith other than the change that we make each time we release something new. We always try to cover new ground and not repeat ourselves. I see House With A Curse as having been a first step along a new path for Coliseum and Sister Faith as us moving full steam ahead on that path. I did want Sister Faith to be a bit more fun than House With A Curse, despite some of the heavier subject matter. Some of House With A Curse felt burdened by its own weight and maybe a bit dour, I love everything on that record but I didn't want to repeat that same Southern Gothic vibe. I wanted Sister Faith to be very vibrant and alive, hopefully we accomplished that.
What goals and expectations did you have in mind as a band when you set out to record the entire album with J. Robbins? Were there any personal goals you set for yourself also, Ryan? Tell us about the newly updated Magpie Studios.
Sister Faith was the fourth project Coliseum worked on with J.: he mixed House With A Curse, mixed our side of the live split 12" with Burning Love, and recorded half and mixed all of the Parasites EP. But Sister Faith was the first full length album Coliseum recorded and mixed with him, the first full release he's produced with us, and the first full album I'd worked with him on since Black Cross's Art Offensive album in late 2002. It was very exciting and exceeded all of our expectations. We wanted to make the best record we could make and J. helps us achieve that. For the people in a band, the experience of recording an album is just as important as the outcome of that recording, so you look for an environment where you're comfortable yet challenged to do your best, where you're working with someone who is among the best in their field who also believes in you and loves your music, someone you respect and whose insight and perspective will make your music and songs better, someone who is fun to be around… J. Robbins is all those things. He's a very wonderful and unique person and I feel very fortunate to have worked with him and count him among my friends. Recording Sister Faith was certainly the greatest musical experience of my life. The new Magpie Cage studio is a really amazing place, it's huge and beautiful, with massive windows in the live room so you don't feel like you're trapped in a cave all day. It has so much history from its time as Oz Recording. It's a perfect place to record and spend a few weeks of your life. But ultimately it's all about J.; he'd make any studio a perfect environment. Personally, I always want to grow as a singer, a lyricist, a musician, and a songwriter with each album (and a designer for that matter). House With A Curse was a huge leap for me in terms of gaining confidence as a songwriter and trying new things as a lyricist. I felt like a had to prove myself and learn how to finally accept my role as the foundation of Coliseum. This time around I felt a bit more comfortable and confident. I didn't feel like I had anything to prove to myself or anyone else… I just wanted to make the best songs and album I could make. That was freeing in a lot of ways and it also allowed me to work toward bettering myself in all those ways mentioned without being overly self-conscious or nervous. I think I did my best work yet in all those regards on Sister Faith and now I'm looking toward growing and challenging myself even more next time.
You've said that the lyricism on Sister Faith was pulled from "…Mortality, death, self-reflection, mankind's downfall." What particular events in today's society drive your inspiration to write?
Sister Faith was mostly inspired by things that happened in my personal life and the lives of my family and friends over the course of 2012. It's a record that, for the most part, looks inward rather than outward. Anything can inspire me to write a song: a life altering even like the death of a loved one, a random encounter with someone in life, a film, a narrative that seems interesting to me, various things I see around me both close by and worldwide, love, joy, fear… That's the beauty of writing lyrics and being able to take your various thoughts and put them in songs to share with people.
Your live shows are always so incredibly solid! Barely any commentary and with what is said, you capture the entire audience's attention. Are there any musicians or artists you took inspiration from when you first started as a band? Is there a particular goal you have with your stage presence?
I was really inspired by Fugazi's live shows and music, they were the most important band to me growing up and shaped a lot of my perspective musically and in terms of the live experience. I also started going to shows during a time when the ideas expressed were important and moving not only in the songs but in the time between the songs. I've never wanted to preach or have any kind of message overshadow the songs, although I've certainly been known to ramble on too long while on stage. All I've ever wanted to do via the moments of talking on stage is to relate to the audience and express myself, make the experience more than just entertainment and more of a personal connection. Sometimes I succeed at that and sometimes I don't.
I read recently that your 10-anniversary as a band is approaching. Do you guys have any big plans for that monument in Coliseum's career? What experience would you say has stuck with you throughout the band's entirety?
We have a reissue of our long out of print first album in the works for 2014, which will be the tenth anniversary of the release of the record. We're remixing and remastering it from scratch and including a ton of bonus tracks, including a lot of liner notes and photos, and having new art created by one of our amazing artist friends. I'm trying to put together a DVD release to include with the LP as well. It should be a pretty cool package. There are so many amazing experiences over the course of these ten years, it's really too much to sum up here or pick out one particular moment. I'm shocked and honored and humbled by the fact that we've been able to travel the world many times over and make music we love and share it with amazing people. It's been a lot of hard work and it's still a struggle at times, but we feel very fortunate.
I noticed some Killing Joke vibes in Sister Faith, was that something that happened indirectly or when you were writing was that a band that played a big role in terms of inspiration?
Killing Joke was definitely one of the bands that inspired us a lot during the writing and recording of Sister Faith, but they've been a big inspiration since Coliseum started - it just shows up a bit more now. In fact, "Cloaked In Red" from House With A Curse was very directly inspired by Killing Joke. There are a lot of bands that influence us and inspire us and Killing Joke is certainly among them but they're also from an era of post-punk that's really important to us and part of that generation of bands that became more melodic and progressive in the mid to late 80s that influence us quite a bit.
As with any musical community, people grow, change and the ideals within the community evolve. What "punk" ideals have stuck with you throughout your life? What do you want people to take from Coliseum's music?
Punk allowed me to not accept life as it was handed to me, it opened my eyes to so many things and changed the way I live my life in almost every way. It helped me to look at any situation and feel free to step outside of the boundaries that were set in place. It's about community, about supporting the endeavors and businesses of other people from your community, about becoming self-sufficient and helping others to do so. It's about freeing yourself from sexism, racism, homophobia, from xenophobia in general. It's about finding adventure in life and creating your own environment to be creative and productive and passionate. I suppose I'd like people to take some of those ideas with them from Coliseum, but on the simplest level I'd like them to just enjoy our songs… Roll the windows down and crank up the stereo. I hope they can relate to some of the things I sing about and find some solidarity in knowing that we're all facing the same struggles. I hope the passion we put into the band translates to the listener and that even if they just dig the sound that it means something to them.
The term "Black magic punks" seems pretty versatile as individuals of the band and for the band as a whole. How was the term coined?
It's one of those things that I thought would be a cool and somewhat tongue in cheek song title that ended up also being a fun moniker for the band. The song is both a celebration of punk and creativity and also an indictment of the faux "occult" fascination and fashion that's in vogue right now. I don't believe in magic or fantasy or gods or demons, I believe in the real things we build and create that spring from our own creativity and imagination. I don't believe in "evil" and I'm certainly not trying to put off that kind of vibe. The idea of "evil" is a religious conceit and trying to perpetuate that is as silly to me as trying to perpetuate the Christian mythology. I find the imagery appealing and I understand the rebellion aspect of wearing inverted crosses, pentagrams, etc., but it's more important to fight those extreme religious movements as they creep into our laws and schools than it is to wave the flag of occultism or Satanism on a t-shirt. In terms of the song, the "black magic" is punk rock and thus we're the "black magic punks." That said, it's all in good fun.
I love the detailed, collage aspect of your artwork (Auxilliary Design). Can you tell us about who your influences are artistically and what your personal standards are when it comes to your imagery?
Thank you very much. As with music, I've been greatly inspired by punk rock design and the cut and paste aesthetic. Off the top of my head I really dig the artwork of Jamie Reid, Art Chantry, Rozz Williams, Glenn Danzig, Jason Farrell, Jeff Nelson, Raymond Pettibon, Margaret Kilgallen, Peter Saville, Pushead, Giger, Tim Kerr, and tons of punk and post-punk designers whose names I don't even know. I also use a lot of source images from 60s and 70s exploitation movie posters and am greatly influenced by those. I'm also always inspired and challenged by work by my friends and peers. Honestly, anything could be worked into my collages and they could go in any direction, it's just how something strikes me and how the pieces fit together. I see it like a puzzle; I gather the pieces together and build something new from the the disparate elements. Once the overall image starts to come into focus I refine and build from there. As with any art, it's just what looks good to me from my individual perspective.
When I saw you guys last, it was in Gainesville, FL at the Atlantic right after HWAC was released. You played HWAC in its entirety and then once through, played a handful of older songs. What, at this time, is your favorite song to play from Sister Faith? What are the deciding factors when it comes down to the set list?
It depends on the night, but my three favorites to play at the moment are "Love Under Will," "Late Night Trains," and "Fuzzbang." Each song has a very unique personality and can be the highlight of the night for me for a different reason. When it comes to a set list we generally try to find a flow of songs that ties together well and also ebbs and flows in a cool way. We generally try to keep a couple of songs from the early records in the set if it's a headlining show. If something has been in the set for a long time and we know we've played it at every show for years we might retire it for a while, but some songs kind of demand that they be played every night. I think we played "Give Up And Drive" at every show between 2004 and 2009 and we've played "Blind In One Eye" at every show since late 2009… Certain songs become so connected with the band that it's hard to see them go away.
Can you tell us about what other tour support is planned for Sister Faith? What should we look out of from you guys?
We've been on tour almost constantly since Sister Faith came out in late April… We went to the UK for a week with Narrows, did a three week North American headlining run with Red Hare, California X and TV Freaks joining us on various legs, we toured with Baroness for a couple weeks after that, then went to Europe and had Birds In Row and Xerxes join us for most of that, then returned to the States for a few shows, then went out in September for some headlining shows with Xerxes opening then a few shows with Girls Against Boys… Now we're about to go up to play with Modern Life Is War at their hometown record release show, then we fly to the West Coast and will have Red Hare join us out there, then we'll tour with Pelican in November… Then, we'll hibernate for the winter and hit Australia and Europe next year. Then, maybe we'll write another record. Always moving forward..

DATE
CITY
VENUE
10-03
Chicago, IL
Bottom Lounge #
10-04
Des Moines, IA
Woody's ~
10-6
Los Angeles, CA
The Satellite *
10-7
San Diego, CA
Soda Bar *
10-9
San Francisco, CA
Bottom of the Hill *+
10-11
Spokane, WA
Carr's Corner *
10-12
Vancouver, BC
Biltmore *
10-13
Portland, OR
Dante's *
10-14
Seattle, WA
Highline *
10-16
Oakland, CA
1234 Go
10-18
Ventura, CA
Zoey's Cafe
11-01
Cleveland, OH
Peabody's %
11-02
Washington, DC
DC9 %
11-03
Philadelphia, PA
First Unitarian Church %
11-04
Chapel Hill, NC
Local 506 %
11-05
Atlanta, GA
The Masquerade %
11-06
Birmingham, AL
Zydeco %
11-07
Baton Rouge, LA
Spanish Moon %
11-08
Austin, TX
FFF Nites
11-12
Louisville, KY
The New Vintage
# w/ Swan King
~ w/ Modern Life Is War, Touche Amore
* w/ Red Hare
+ w/ Kowloon Walled City
% w/ Pelican