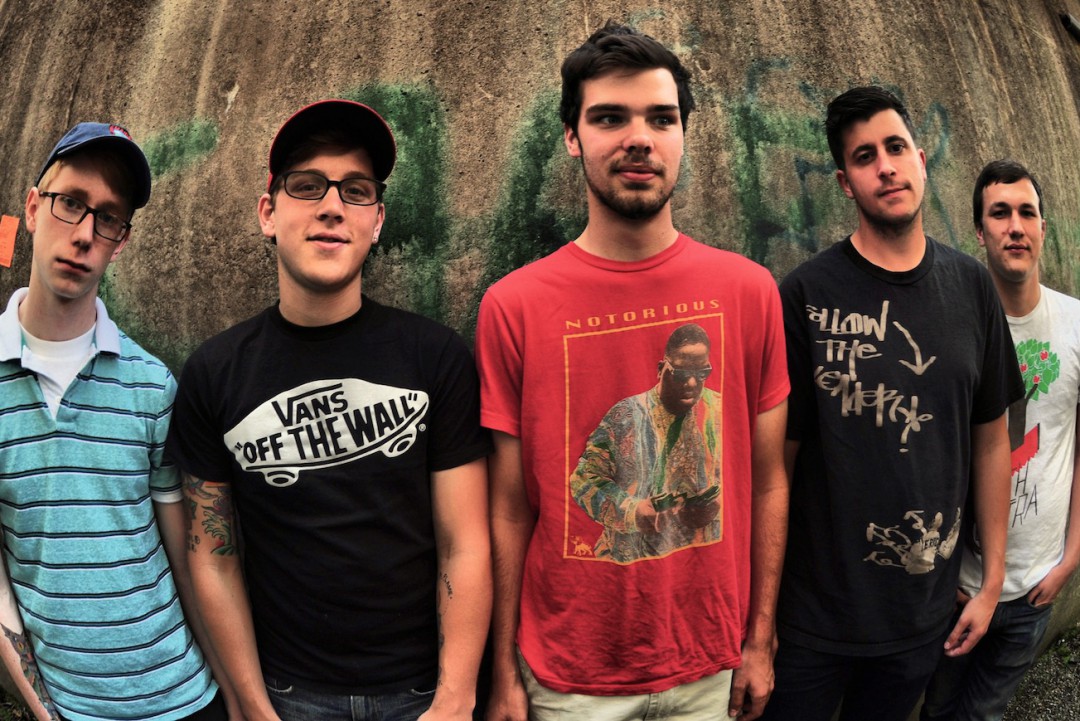 So how is the Title Fight tour going so far?
It's amazing so far. A lot of the shows have been sold out too, which is unreal. It's really fun.
I noticed it's a really diverse lineup, especially with Cruel Hand thrown in there. What have the reactions been for each band night by night?
It's a completely diverse crowd, that's what's been cool about this whole tour. You've got kids showing up for Slingshot Dakota, you've got the hardcore kids showing up for Cruel Hand but they also like Title Fight too. Our fans are showing up too, so it's a really good mix. It's cool that some of these people are hearing new styles of music, and it's working for everyone's benefit.
You guys just released your second album not too long ago. After listening to it a few times, I think it sounds really mature and more developed than Separation. What kind of mindset were you guys in when you were writing and recording it?
When we recorded Separation, we were all working nine-to-fives so we would write for a few hours at Eric's house, so it kind of felt rushed and forced. It's hard to do that after working all day. So for this album we took time off work and rented a cabin in the woods for like two weeks or so. We wrote the whole time we were there and it was amazing. We've never really done that before, to have all that time to devote to writing music. I think that definitely helped with this record a lot and why it sounds so cohesive.
It always seems like the cabin idea is the way to go. Everyone seems to make really amazing albums when they just camp out and write.
Yeah, just focusing on it. We needed it at the time. It was a really cool idea and it worked.
What kind of influences were you guys pulling for the new material, and how did that differ from past influences?
This record we didn't really think about that. We kind of forgot to think about it, actually. We didn't want it to sound like anything else, but with Separation we were influenced by Jawbreaker, Sunny Day Real Estate, Brand New, stuff like that. But I think this one we didn't really think about it. We didn't say "what do we want this record to sound like?" So it's just us finding our own sound for the first time.
This is the second full-length you've done with No Sleep Records. How is the relationship between the band and No Sleep Records?
I know Chris reached out to us through email a while ago. It was an email thing for a while, before we even signed the contract. Chris works hard for us and we have no complaints. He's great. Every band on No Sleep Records, he just works really hard for them. It's great to have a friend that supports us like that.
I saw the band just released a Split with Braid through No Sleep Records as well. How did that come about?
It was insane that we released something with Braid. We've still never met them, but it was an idea they had. They hit up Chris about it, and we said "of course we want to do this." Frame And Canvas was one of those records that changed our lives. They were a band that we always wanted to do something with, and I still really can't believe it.
How do you feel that a band that essentially changed your life wanted to work with you?
It didn't really make sense but it was cool.
I wanted to ask about the Doylestown scene. It always seems that a lot of the bands from around that area have a really tight-knit sense of community. How has your local scene affected the band?
It's great to have so many good friends that are in great bands. We all came up together going to shows. We've always been friends with Tigers Jaw, Daylight, and Title Fight for a lot of years. It's cool to see your friends catch some success, and we're all happy for each other and support each other. We all just got kind of lucky with it.
I saw Anthony Green did a guest spot on the new record. He's been around for a long time in eastern Pennsylvania. How is it to know that you can collaborate with the guys that have been around for a long time?
Really cool. We did a tour last year with Circa Survive and we've gotten really tight with them. I mentioned we were going into the studio to Anthony and he said he wanted to do it. They have had a huge influence on us and are great people so it's cool to have his voice on the record.
What would be the ultimate tour Balance and Composure would do if you could choose? Foo Fighters, definitely. That would be insane. They're definitely the best mainstream rock band out right now. Radiohead would be another cool one. It's a toss-up between the two. Maybe a tour with the Foo Fighters, Radiohead and us would be the best. Throw in Manchester Orchestra too and it would be amazing.
So what do you have planned now that the new album is out?
We're doing some dates with Coheed And Cambria, and after that we don't really have anything set. We're talking that out right now. We're trying to go to Europe and Australia, maybe doing some headlining stuff there. We're throwing ideas around right now, but we want to see the world again like we did for Separation.
Wouldn't be a bad time to get that Foo Fighters tour together.
I might have to write an email to somebody.
Thanks a lot for taking the time to talk.
No sweat man, thank you.