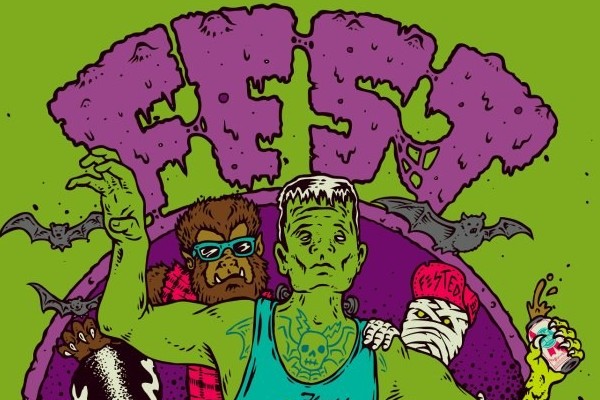 The Fest 12 kicks off next week, with the debut of Big Pre-Fest in Little Ybor happening Oct. 29-30 just outside of Tampa, FL.
A handful of bands have promised special treats like full albums front to back and cover sets at Big Pre-Fest in Little Ybor to give it a different feel from a "traditional" set. Others will likely keep their plans secret until the "curtain" is raised. Others will probably just play regular, ho-hum sets.
We've compiled a few of the special sets below; keep in mind that set times are subject to change. Let us know what special sets you'd want to see in the comments.
The Bouncing Souls – How I Spent My Summer Vacation front to back
In addition to consistently solid output, one of the largest reasons why The Bouncing Souls have been around for over 25 years is fan service. Other than maybe Less Than Jake, no band from this era has worked harder to keep their fans happy: Apart from consistent touring all over the world, the Souls perform a series of Home For The Holidays shows in Asbury Park, NJ every December which usually includes some sort of set-related quirk. Two years ago, it was a lottery; a piece of paper with a song title on it would be pulled from an onstage hopper, and no matter how old, dumb or obscure the song was, the band would play it. The guys don't disown from their older material in any realm; even their long out-of-print and rightfully much-maligned debut Green Ball Crew E.P. was reissued earlier this year.
Now, for their pre-Fest show in Little Ybor, the Bouncing Souls will perform their beloved 2001 LP How I Spent My Summer Vacation in its entirety. Given how highly that album is regarded in the Souls' discography, fans might not be able to hear the band over their own singing along. (Wednesday Oct. 30 1 a.m. - 2 a.m. at the Ritz)
Red City Radio – To the Sons and Daughters of Woody Guthrie EP front to back
Red City Radio became near-instant favorites among Fest types when their debut To the Sons and Daughters of Woody Guthrie dropped back in 2009. Those were and are nearly perfectly executed melodic punk songs with an appealing grittiness and an understated soul, performed with far more of a zeal than your average "gruff punk" band. Having followed that up with the equally fun The Dangers of Standing Still and this month's Titles, RCR have delivered on the hype Sons and Daughters afforded them four years ago. Expect to leave their set at pre-Fest soaked in sweat and beer. (Wednesday Oct. 30 9:20 p.m. - 9:50 p.m. at Orpheum)
The Holy Mess – Alkaline Trio cover set
Let's face it: Cover sets can often be, well, uninspired. They might be fun for a bunch of already-drunk showgoers, but if the band doing the covering doesn't make the effort to bring some of their own personality and technicality to the set, it often ends up feeling uninspired. While Cande Ru Las Degas was just about as grim as an Alkaline Trio record, The Holy Mess aren't the kind of band who will ever be, like, spooky or anything. That disparity is reason enough to believe that their Trio cover set at pre-Fest could be really fun and interesting. (Tuesday Oct. 29 5:30 p.m. - 6:00 p.m. at Orpheum)
Cobra Skulls – Sitting Army front to back
Back when Cobra Skulls were still young pups who shoehorned the word "cobra" into nearly every one of their song's titles, Red Scare took notice and issued their 2007 LP Sitting Army on an unsuspecting, but ultimately appreciative audience. Those songs, still laced with fiery punk energy and a unique personality six years later, laid the groundwork for the Skulls to build a passionate, bandana-clad fanbase. While their subsequent material – especially the excellent American Rubicon LP and Bringing The War Home EP – has been laced with more interesting experimentation, Sitting Army remains a fan favorite. (Tuesday Oct. 29 9:40 p.m. - 10:10 p.m. at Orpheum)
Ann Beretta – Bitter Tongues front to back
OK, so while this isn't exactly the first Ann Beretta "reunion" set, here's what sets it apart from the others: They're playing Bitter Tongues front to back, which was released on Fueled By Ramen back in 2000 (Remember when FBR had a roster peppered with great punk and emo bands? No? How old are you?); The band have a titular comic book series on the way, with the first issues to be one sale at Fest; Oh, and they've written new songs for a split with Smoke or Fire. It sounds like the "special reunion" tag doesn't fit Ann Beretta anymore. They're just back. (Wednesday Oct. 30 10:10 p.m. - 10:40 p.m. at the Ritz)