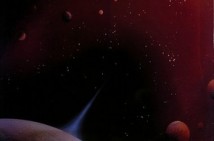 This month (November 30, to be exact) marks the 30th anniversary of Bad Religion's prog-influenced, keyboard-heavy, mostly-shunned-and-forgotten 1983 full-length Into the Unknown. Bad Religion more or less disowned the album shortly after its release, briefly breaking up -- and then titling its 1985 follow-up EP Back To The Known. For what it's worth, Into The Unknown was mostly well-received by critics; Robert Christgau wrote of the album, "…this promising L.A. hardcore outfit has moved on to slower-tempo, organ-drenched hard rock that resembles nothing so much as late Hawkwind. Some may call it caterwaul, but I find myself moved by its anthemic ambition--and achievement."
The cult status of Into The Unknown has grown over the years, and whether due to distance or age, Bad Religion's stance on the album has softened somewhat. It was reissued for the first time since its initial release in 2010 as part of the band's 30th anniversary vinyl box set, and Greg Graffin and Brett Gurewitz both offered commentary on it that same year, which is still up at the band's website.
For more on Into The Unknown, check out this recent piece at LA Weekly.