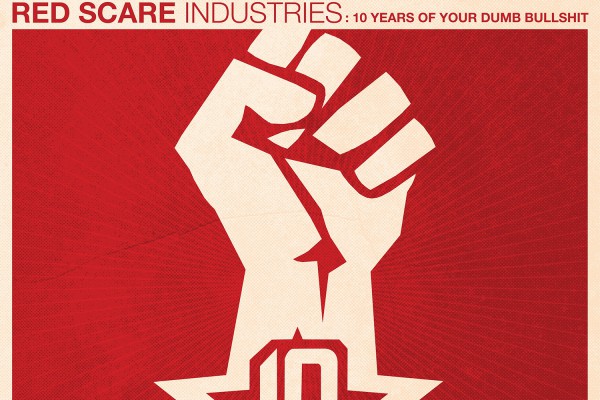 The Red Scare Industries has posted the schedule for its 10-year anniversary, going down the weekend of October 24-26 in Chicago. The celebration includes performances by Nothington, Dan Vapid, Reaganomics, The Brokedowns, Elway, Direct Hit!, The Holy Mess, Brendan Kelly and the Wandering Birds, Teenage Bottlerocket, The Sidekicks, Enemy You, Masked Intruder, The Methadones, The Lillingtons, The Falcon, Cobra Skulls and more. Red Scare ringleader Toby Jeg stated:

We added FOUR new bands and Enemy You is reforming to play the show. Their first in like 7 or 8 years.
It's also been announced that there will be giveaways for folks that arrive at the beginning of the main show on October 25 at The Metro including upgrades to VIP tickets and Red Scare relics.
Friday, October 24th @ The Gingerman Tavern Doors at 7:30 p.m.
Nothington (acoustic)
Elway (acoustic)
Dan Vapid
Special Guests?
Saturday, October 25th @ Metro Doors open at 3:00 pm
Reaganomics 3:45-4:15
The Brokedowns 4:25-4:55
Elway 5:05-5:35
Direct Hit! 5:45-6:15
The Holy Mess 6:25-6:55
Brendan Kelly and the Wandering Birds 7:05-7:35
Teenage Bottlerocket 7:45-8:15
The Sidekicks 8:25-8:55
Enemy You 9:05-9:35
Masked Intruder 9:45-10:15
The Methadones 10:25-10:55
The Lillingtons 11:05-11:45
The Falcon 11:55-?
Sunday, October 26th @ The Gingerman Tavern Doors at 8 p.m.
Brendan Kelly (solo)
Cobra Skulls (acoustic)
Special Guests?