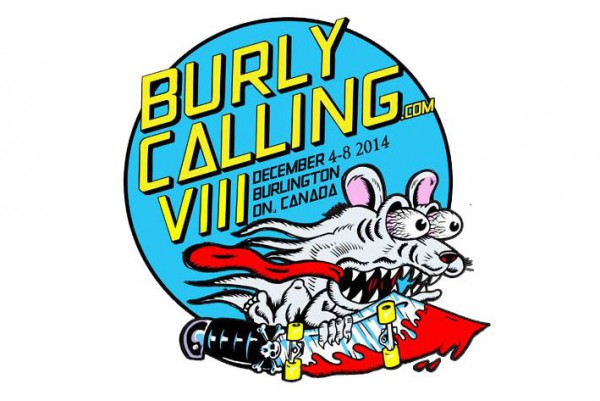 The full lineup for the 8th annual Burly Calling festival in Burlington, Ontario has been announced.
Kicking off on Thursday, December 4th and wrapping up with a reunion from The Fullblast on Sunday, December 7th, the multi-venue event will feature performances from Fucked Up, Silverstein, The Dirty Nil, Grade, TV Freaks, Junior Battles, George Pettit of Alexisonfire's new band Dead Tired, Canadian punk veterans like Teenage Head and The Almighty Trigger Happy, and may more.
Punknews.org is a sponsor of this year's event. Check back soon for a chance to win tickets and more.
Thursday, December 4
Joe Dog's (531 Brant St., Burlington, ON)
THE KENT ABBOTT MEMORIAL TOYDRIVE
(Upstairs)
(Downstairs)
The Dickens (423 Elizabeth St., Burlington, ON)
THE PARTY PUNK SHOWCASE
Friday, December 5
The Queen's Head (400 Brant St., Burlington, ON)
THE NEW CLASSICS SHOWCASE
The Dickens (423 Elizabeth St., Burlington, ON)
PUT A FOLK IN IT SHOWCASE
Boston Manor (4460 Fairview St., Burlington ON)
GENERATIONS OF PUNK SHOWCASE
Saturday, December 6
The Queen's Head (400 Brant St., Burlington, ON)
THE TASTE THE COLOURS SHOWCASE
The Dickens (423 Elizabeth St., Burlington, ON)
THE LEATHER JACKET SHOWCASE
Ron Edwards YMCA (500 Drury Lane, Burlington, ON)
THE ALL AGER RAGER SHOWCASE
The Boston Manor (4460 Fairview St., Burlington, ON)
TITLE FIGHT SHOWCASE
Sunday, December 7
Boston Manor (4460 Fairview St., Burlington, ON)
THE TOGETHER AGAIN FOR THE FIRST TIME SHOWCASE