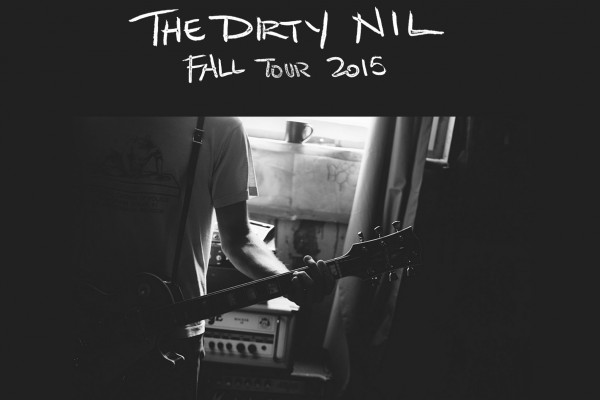 Canada's Dine Alone Records has signed fellow Canadians The Dirty Nil. The label will kick off the relationship with a new 7-inch titled No Weaknesses b/w Provisional. The b-side is a cover of the Fugazi track from Margin Walker [EP] (and eventually on 13 Songs). The band added:

I was completely terrified to release this cover. Fugazi hold such a colossal place in my mind. They're the paragon of punk virtue, and they had the kind of autonomy and creative freedom that every band should aspire to.
The band has also announced their fall touring plans. A full length release, the band's debut long player, is expected on the label in 2016. Exclaim is reporting that the album, for which a title has not yet been announced, is currently being mixed by John Goodmanson (Sleater-Kinney, Death Cab for Cutie, Bikini Kill).
| Date | City | Venue |
| --- | --- | --- |
| August 9, 2015 | Vancouver, BC | The Cobalt |
| August 10, 2015 | Calgary, AB | The Nite Owl |
| August 11, 2015 | Edmonton, AB | The Buckingham |
| August 12, 2015 | Saskatoon, SK | Vangelis Tavern |
| August 13, 2015 | Winnipeg, MB | Pyramid Cafe |
| September 19/20, 2015 | Toronto, ON | Riot Fest |
| October 13, 2015 | Detroit, MI | Majestic Café |
| October 14, 2015 | Buffalo, NY | The Waiting Room |
| October 18, 2015 | Boston, MA | Great Scott |
| October 20, 2015 | Philadelphia, PA | Everybody Hits |
| October 21, 2015 | New Haven, CT | BAR |
| October 22, 2015 | Baltimore, MD | Metro Gallery |
| October 23, 2015 | Pittsburgh, PA | Cattivo |
| October 24, 2015 | Columbus, OH | Double Happiness |
| October 25, 2015 | Cincinnati, OH | MOTR |
| October 27, 2015 | Nashville, TN | Stone Fox |
| October 28, 2015 | Atlanta, GA | 529 |
| October 31, 2015 | Gainesville, FL | The Fest |
| November 3, 2015 | Jacksonville, FL | The Birdhouse |
| November 4, 2015 | Charleston, SC | The Royal American |
| November 5, 2015 | Chapel Hill, NC | Local 506 |
| November 6, 2015 | Washington, DC | DC9 |
| November 7, 2015 | Brooklyn, NY | Shea Stadium |
| November 8, 2015 | Long Branch, NJ | Brighton Bar |
| November 10, 2015 | Lakewood, OH | Mahall's 20 Lanes |
| November 11, 2015 | Bloomington, IN | The Bishop |
| November 12, 2015 | Chicago, IL | Cobra Lounge |