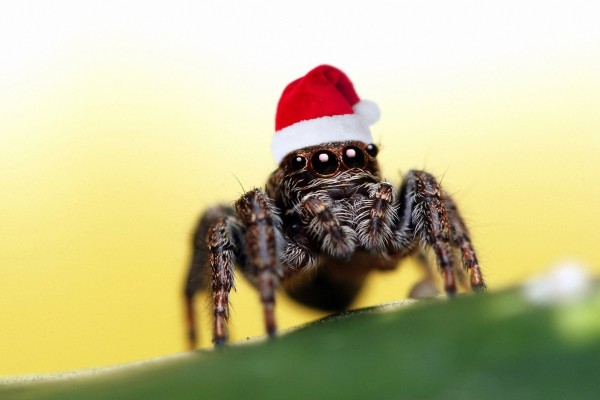 Hi. Remember yesterday when we said we had posted our last guest "best of year" list? We lied. Today, we've got a bonus guest list! We check in with Scott Sturgeon of Leftover Crack and Joey Steel of All Torn Up! to see what were their top picks for 2015, as brought to you by Sheena the Spider!
Meanwhile, check back tomorrow for the first part of our staff "Best of 2015" picks!
Scott Sturgeon
Scott Sturgeon is the dynamite vocalist for Leftover Crack. They put out the excellent Constructs of the State this year!


Bloomsbury USA
Everybody must read this!!! It's the only book that I've ever read that has taken in all of the different social factors, scientific studies along with the staggering historical evidence that exposes the pitfalls & grave mistakes that are unavoidably synonymous with prohibition. After 100 years of Harry Anslinger's failed "Drug War", Hari has compiled the brutal evidence & gruesome results of what has become the 20th century(& beyond)'s most epic & intricate systematic abominations into one book. Those that care about justice & reform must read about why the war on drugs was a complete failure & how we can reasonably move on as a society to effectively ending this racist mechanism which has directly resulted in America's ridiculously over-populated prison system as well as law enforcements routine brutality & murder along with the state power structures that are a direct byproduct of policies which serve only to subjugate the poor & control minorities for the benefit of the affluent, powerful & often cruel. This so-called war has even been proven to be the primary source of income for those in need of a supply of non-taxable/non-traceable cash to finance terrorist plots amongst much more large-scale violence & suffering around the world. This book is what I'm giving to every single person that I know who reads & has any kind of conscience at all this "holiday" season. This is not a liberal, conservative or anarchic issue, it effects everybody around the world. Legalize it & vote for Crack in 2016!
Live Show
A free afternoon show squeezed in between a rigorous touring schedule brought these North-westerners across the continent for a snow-cone breakfast between songs in the blistering summer heat of our forgotten borough, Staten Island. RVIVR blasted through a dozen powerful pop-punk tunes with their killer Dual-lead guitar/dual lead vocal attack. I caught them a few hours later out in Brooklyn & begged them to contribute something to our new album, but I was kind of star struck in a way that I can't explain. They are so talented that they make me very insecure & I'm reduced to the 90 pound 15 year old stammering over my words so long ago. Maybe next time I'll have the confidence to get a song from them, like, for this comp that I'm working on… RVIVR… What do you say?
The story of Sam Sadowski has remained largely untold & for good reason. The folks that know how goddamned talented she is are trying very hard to get this homeless, antiauthoritarian iconoclast to compromise her nihilism with the idea of Making a schedule..? That's correct & I should know, because when I rejected society, I also rejected the idea that I had to do anything except exactly what I wanted to do & exactly when I wanted to do it. I eventually compromised enough to get into a recording studio & finish 'No Gods/No Managers,' but that honestly took years as well… Flash-forward 20 years & we have Sam Sadowski whom I had met at a homeless-outreach type of drop in center in the tenderloin. Tremendously shy, yet soft-spoken & intelligent, I had no idea that she played music. I barely got an internet link mumbled to me that turned out to be mostly covers of bands that I've played in, which were good, but, I've heard that stuff a million times, so, nothing stood out as being all that interesting. Late at night I drunkenly recalled the name "Closet Fiends" I typed it in & the next thing I knew I was transported to the bathroom at a tenderloin SRO. Her lyrics stuck & connected with me immediately & the odd albeit beautiful "self-taught"chords caught me off guard & floored me! The first time I heard "Bed to Medicine" from a 4 year old youtube video, I was sold, Sam Sadowski was unique & there has never been anything like these songs that she wrote. We embarked on an expedition to find her the next day & the result was a roller coaster ride in the studio where she began the process of learning how to make a record. This story has the capacity to become much more epic & extensive following the tough first act of Sam's initial 20-odd years of living: Trains, squats, adventures, triumph, destitution, creative breakthroughs & misanthropic craziness. If we can get her in the studio for an actual rehearsed full-length LP, I already know that it will be a fucking classic. In the meantime you can find her 5 song live demo EP available from Fat Wreck in January. And seriously, if you see her, tell her to get in goddamned touch so we can make this happen ¡en serio!
NYC's had a rough history when it comes to Anarcho-Punk. What now stands as an expensive & overcrowded metropolis where the rents soar & your free-time is spoken for. A lack of space means a lack of practice space which in turn means a lack of practice & every band, punk or not, needs to practice. In a city that once boasted of cheap rents and an endless assortment of talent from around the globe was, for a time, one of the worlds greatest artistic playground. Bands & other artists flourished there depending almost entirely on how much of a shit-pit the city had become. Since the hey-day of the early to 70s up until Giuliani's famously encroaching "quality of life" crack-down of the mid-90s, all genres of music took root & local bands thrived, many to become global exports. Now, Anarcho-Punk has always been a tough genre to maintain. The ever thinning line between the dichotomies of activism vs. hunger, organization vs. authority & lifestyle vs. convenience always loomed in anticipation to topple the ideas & ideals of this noble endeavor. How does a group of people maintain a clear-cut social message without falling into the many pit-falls of society? Always this impending hypocrisy that threatened to clutter your life with a cloud-like grey area. Social responsibility vs. the so-called responsibility of "growing up" or worse yet: affording to exist in this maddening, gentrifying city. While most of these bands either give up or break-up before they can properly make a mark, there have always been a handful of survivors that might not have lasted as long as the average band, but they sure left an indelible & sometimes legendary mark on punk history: Reagan Youth, Nausea &.. . All Torn Up! A band that has lasted far longer than most with some of the fiercest agendas, tightest musicians & energetic live shows of the past 20 years. Joey Steel & the international crew that comprise ATU keep it raw & political as fuck. Only racist, rapists & homophobes leave their shows disappointed if not smacked up & bleeding a bit…
N/A
This woman snuck into my audial periphery via the suggestion of one Captain Justin Ennis P.H.D. & she immediately tore shit up in the most constructive way possible! You see, the world of punk rock is ruled by & subsequently full of a bunch of fuckin' dudes & I know for a fact that women can rock harder than dudes all the time & in every way. We were all just so sick of dudes! Dudes in punk bands, dudes in metal bands, dudes in ska bands & as I looked in a mirror & around at the other members of Leftover Crack… Well, DUDES! It had been too long & it was high time for us to stir things up & among so many other great guests on our record (including many actually fantastic "dudes") we had great contributions from folks like Mars Goetia, Talia Minger, Whitney Flynn, Laura McCardle, Katrena Marie & many more non-gender specific, non-traditional sexual beings. we had L's, G's, B's,T's & even others folks so far out on the cutting edge of new identities that they have yet to co-opt any abbreviation.. & then along came Kate who kicked our game up to another level completely as she angrily hammered in the final nails on "Constructs of the State" with her blistering crusty vocal onslaught burning white-hot on such songs as "Archaic Subjugation", "BedBugs & Beyond" & "Corrupt Vision" among others. It's a new day, a new year & a new crack. For women only, duh!
Self-released
Yes, technically this was released in 2014, but I didn't hear it until January & it not only clicked with me immediately, but it ignited the spark inside of me that got me to finish the new LOC record after a long stretch of stagnation with vocal melody & an overall lyrical writers block. I have rarely heard a band that was plainly influenced by Choking Victim & LOC at some point only to emerge with something almost entirely different & with a singular brilliance in their very own crusty folk-punk genre that they have dubbed "Thrash-Grass." Listening to the song structures & lyrics on Rogue Taxidermy almost instantly inspired me to reconnect with my own writing in a very fundamental way. "Misanthropic Drunken Loner", "DBS Out" & "Post Party Depression" are just a few of the many classic-bound sing-alongs on Days n Daze's most solid crust-punk effort to date, where traveling busking crusty's with their packs & dogs squat & conquer modern music's cultural landscape so successfully that they have firmly embedded themselves into the American punk rock lexicon for years to come with not only a romantic heart, but also with a surprising ferocity that betrays their all acoustic performances & recordings.
I think that it would be impossible to quantify the influence that a handful of musicians, singers, lyricists, artists & authors have had on me since I was a sentient child- Both consciously & subconsciously over the course of my life as an artist & also as a human animal with not just creative thoughts, but all of the rest of the thoughts, memories & feelings that make each of us who we are in that distinctive & singular way that will never let there be another person exactly like me or you ever. That is largely due to our personal experiences that will also find no exact match. So, when we discover an artist of some sort that really reaches us & we find ourselves either fascinated & enamored or fascinated & repulsed, this is one of those very things that makes us exactly who we are.
I've met some of these people in the course of my life & it's often not a great experience as it has a way of destroying what might have been a very intimate & personal connection with their work that rarely reveals the exact personality of the artist & it can easily ruin your connection to something that might have had a profound effect on your life.
I loved Operation Ivy from the first time I heard a tape of theirs in a high-school friend(& soon to be singer in my first punk band)'s apartment on Roosevelt Island, NYC.
I, like many others at the time, could not stop listening to Energy over & over again. So, I was surprised when Rancid started playing many small Bay Area shows that I caught amongst perhaps a dozen other folks in the crowds & they definitely had some good songs, but I just couldn't find any connection like I did with Op Ivy. For ages I couldn't figure out exactly why & over the years I began to logically speculate that what made Op Ivy special was their Vocalist; the elusive "Jesse Michaels." A person that nobody knew about. There weren't even rumors about him circulating. & 20 years later the mystery remained. So, I was slightly taken aback when my friend Miguel wanted to know if I wanted to catch a film with himself & Jesse. I tagged along & 5 years later, I've still only scratched the surface on a very intelligent, witty, warm hearted & complex person. Getting Jesse to sing on our new record was a pretty slow-going process, which ended up being perfect, because, it was gonna take me another three years to finish the song that I had set aside for him to sing on. And finally, after a few practices spread out over the last 3 years, I got him to agree to perform "System Fucked!" with us. I just told him that he had to direct the video & he agreed which meant that he'd be in the video, which meant that he'd perform the song live with us- which meant that I could Maybe, Maybe, Maybe convince him to do an Op Ivy song with us- Dare I try for two? I did & it was the best show I've ever played at & I will cherish that super special performance for the rest of my life. Thanks Jesse Michaels! I hope the video comes out as great as the time we had filming it…
This Santa Cruz based group of crusty-buskers keep evolving on record after record with stronger, increasingly well-written & varied songs. In this case followng the thoroughly amazing "False Weavers". I wondered how they could top what is sure to become an Anarcho-Punk classic as the years go by. On "Destroying" also released by S.F.'s stellar Silver Sprocket Bicycle Club (record label/comic-zine publishers) BBR create something entirely new & fantastic in a semi-collaboration with Irish folk-punks Lynched & the influence is crystal clear while seamlessly incorporated with BBR's unique crusty-folk sound. Check out "Last Legs" which we cover on "Constructs of the State" as well as "Hecatombe/Augustin's (deer song)" & "Grist Mill" to name a few of the stand-out tracks on an over-all compelling record.
We played our record release show in November at this, my "spirit" club (think "spirit" animal, but punk club & with an atheistic non-engagement with anything "spiritual"). ABC No Rio's collective spirit died with the ascent of petty authority figures in the late 1990's that seem/ed to want to dismantle any unity in the NYC Anarcho-Punk music scene in the name of some manipulative PC self-rightiousness. in stark contrast, Berkeley's 924 Gilman Street Project not only remains true to their original ethics with an amazing consistency in their volunteer/collective run dynamic, but they seem to have even mellowed out a bit with their well earned status as a Berkeley DIY institution & (unofficial as of yet) East-Bay historical landmark. I got to play there twice in 2015 & I caught so many great bands & performances that I could fill a whole top ten of my favorite shows of this year with the line-ups that I caught their alone…
Live show
Martin & Co. tore our basement up! & I not only had a front row spot, but also, the only secret way from my bedroom to the stage-side. Almost as entertaining as the blistering set was watching Fat Mike climb up the chutes & ladders that make up our fire-escape after the show. Why Oh Why did I not have my camera ready?
Joey Steel
Joey Steel is the cool lead singer for All Torn Up! He also runs the neat-o Dispatches from the Underground podcast.
DIY albums are tough to do "best releases of _____" for because MOST of the albums I really loved this year came out last year or 2013 and I just never got around to herding them in time. Most of the best bands I know about I heard about at a show when they were on tour . Unless I seen them I probably would not know them. This year my listening has been saturated with albums from 2013 and 14 esp. Dirty Kid Discount, Days N Daze, and La Armada's. But I we must leap into the future, by doing a review of this past year.
Top 10 Albums (PLUS some) I loved that were released in 2015 in alphabetical order.
Self Released
Heavy music can sometimes slip into a thing that people don't enjoy listening to and I never understand why those people make that music. This is NOT that album. This album should be used as a class to teach people how to get the most out of everything they do and end up with something people are dying to hear. Another fucking incredible album by EV!
Self released
Incredible HC band from NYC. Great album, especially their song Ebb and Flow. This is song captures what NYHC is all about to me, and it is refreshing to hear it being done this well in 2015.
Loma Vista
I mostly listen to metal, and I love this band/album. Satan can have my vote in the next election if this is the kinda work he is gonna turn out. Don't listen to this is you hate music. This one is for lovers only.
I think this album is flawless. The politics we need to hear with heart and more hooks than a hookworm could fathom if a hookworm could fathom. This is LOC's best album which is almost sacrilegious to say, but if we can't be sacrilegious with LOC what the hell does the word mean. I have not stopped listening to this in a month! Fucking glorious!
Pine Hill Records
For my dime these guys are the best hardcore punk band in the northeast and this record is no less than what I have come to expect from these fellas: vicious politics and unrelenting riffs.
Mouthbreather: Hubris
Riotous Outburst
Heavily crustified punk tunes. I have no idea how you can get these tunes, and I know there are a few Mouth Breathers around, this one is from CT. I got the tape when we played together and I fucking loved it.
self released
All thrash music should sound more like this. These fellas take the best of crusty-sludgey punk, hc, and thrash and melt it into a shiny ball, place it in the orifice of your pleasure and kick. Well written tunes with riffs almost too heavy to lift and vocals that Dean Martin would swoon over. Perfect. These fellas are on Profane Existence so you know it is quality.
self released
There are also a few Soothsayers out there, these fold are from Pitt. I don't know how to describe this in a way that would not offend them. They call themselves "post-crust" I think that is pretty good. Dark tunes with glorious, intense, biting vocals. I could gush about the album all day and still not even get close to how good the live show is in comparison. Go listen to the tunes, but if you have the chance and still miss them belt these tunes out live you will be sorry.
self released
I listened to this metal album like once a week all through 2015. Bluesy metal, sort of clutch meets down but DIY and better. Awesome album from some fucking great dudes in Cleveland. Dislocations is a fucking spectacular tune.
Self released
NY drunk-ish punx with another hook heavy bender torn through. They never miss a beat and always leave you smiling and remembering why you liked punk in the first place. Simply enjoyable punk.
on the non punk/metal side-
#1 The Frightnrs - "Inna Lovers Quarrel" EP
Brooklyn based Reggae band with perfect everything. Dan from this band has pipes of the smoothest silk you ever heard. This is by FAR the most commonly played tracks from 2015 in our tour van.
honorable mentions go to
+ Demencia Alkoholika - a bunch of rad singles! esp. "Asi te ha pagado"
The recordings leave a bit to be desired but I love this band and I love these tunes. Very heavy NJ outfit covering a ton of ground from grindcore to metal.
+ Population Zero - Fear Campaign
I have not gotten a copy of this album yet, but I have heard "Street Violence" off the album and I cannot wait to hear the rest. I know I am gonna kick myself for not getting this album sooner, and putting it on the list. I'm sure when I get it i will regret not including it. So I want to mention it, next year will be too late.