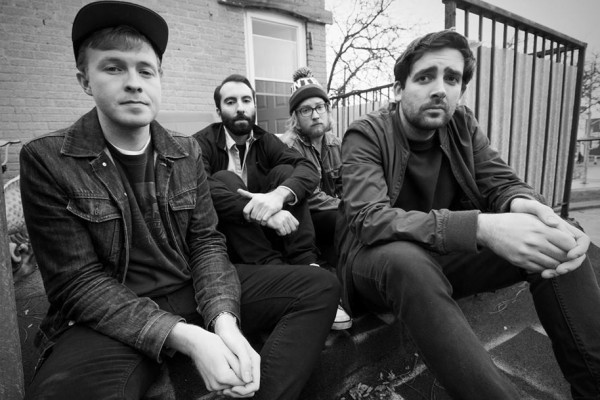 Toronto's Pkew Pkew Pkew have released a new video for the song "Prequel to Asshole Pandemic." It was directed by John DuGrey and you can check it out below. The track appears on the band's new full length, due on June 10th via Royal Mountain Records
The band will celebrate the record with a release show on June 10 at Toronto's Smiling Buddha alongside Junior Battles and Bond Girls.
The title of this new song is a reference to the band's earlier tune "Asshole Pandemic," which appeared in 2012's Red Ass EP. Pkew Pkew Pkew is on the road this month, including shows with Pup.
| DATE | VENUE | CITY | WITH |
| --- | --- | --- | --- |
| April 7, 2016 | House of Targ | Ottawa, ON | |
| April 16, 2016 | Merchant Ale House | St. Catharines, ON | |
| May 13, 2016 | Girard Hall | Philadelphia, PA | |
| May 14, 2016 | Parlour Gallery | Asbury Park, NJ | |
| May 21, 2016 | Pouzza Fest | Montreal, QC | |
| May 27, 2016 | Homegrown | Hamilton, ON | |
| June 10, 2016 | Smiling Buddha | Toronto, ON | with Junior Battles, Bond Girls |
| June 14, 2016 | The Sidewinder | Austin, TX | with PUP |
| June 15, 2016 | Three Links | Dallas, TX | with PUP |
| June 17, 2016 | The Masquerade | Atlanta, GA | with PUP |
| June 18, 2016 | The Highway | Nashville, TN | with PUP |
| June 21, 2016 | DC9 | Washington, DC | with PUP |
| June 22, 2016 | Philamoca | Philadelphia, PA | with PUP |
| June 23, 2016 | Great Scott | Boston, MA | with PUP |
| June 25, 2016 | Music Hall of Williamsburg | Brooklyn, NY | with PUP |